May, 2009
Visionary
How NEI Supports Vision Research
By Allyson T. Collins
NEI Science Writer/Editor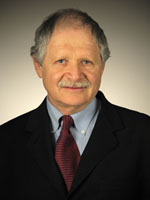 Michael D. Oberdorfer, Ph.D.
Director of Strabismus, Amblyopia and Visual Processing
Director of Low Vision and Blindness Rehabilitation
NEI Extramural Research Program
Michael D. Oberdorfer, Ph.D., had his first encounter with the National Eye Institute (NEI) in 1975 when he was awarded an NEI postdoctoral fellowship. He had recently completed a Ph.D. in zoology and neuroscience at the University of Wisconsin, Madison. Later, he joined the University of Texas Medical School faculty and received an NEI grant to study visual system development. Next, he established the developmental neuroscience program at the National Science Foundation before joining the NEI Extramural Research Program in 1983 as a health scientist administrator.
In a recent interview, Oberdorfer describes his current work as director for the NEI Extramural Programs in Strabismus, Amblyopia and Visual Processing as well as Low Vision and Blindness Rehabilitation.
As part of the NEI Extramural Research Program, what does your work entail?
Well, an important part of the NEI's mission is to support research directed at understanding the causes of eye diseases and visual system disorders. To achieve this mission, the NEI Extramural Program awards researchers around the country with grants to support their eye- and vision-related research. As a program director, I am responsible for about 200 grants for research involving how the brain processes visual information and projects involving visual impairment, including blindness. I correspond with researchers on a daily basis, monitoring their progress and answering questions that prospective grantees have about the funding process.
What's the most rewarding aspect of your job?
It's definitely dealing with scientists and clinicians in all aspects of vision research--learning about their ideas and helping them submit successful grant applications. It's also interesting to interact with researchers from other fields because they bring new ideas to the table. As a program director, I need to stay up-to-date about emerging disciplines that may impact vision research, including neuroscience and genetics. Since I can't predict where the next ideas will come from, it's important for me to visit labs, keep up with the literature, and find out how people can leverage new approaches to their projects.
Is there a simple formula for getting research funded by the NEI?
Typically, a successful application will have an innovative approach to an important question about our understanding of eye diseases and visual function, as well as the resources to carry out the project. But getting funding can be complicated. Every application needs to go through a peer review process, where reviewers analyze a proposal's significance, its scientific merit, the applicant's track record, and the resources available to do the work, among other factors. Most applications are first reviewed by the Center for Scientific Review at the National Institutes of Health (NIH). Proposals are also considered by the National Advisory Eye Council, which advises the NEI director and staff about program relevance and issues that arise during the initial review. Part of my job includes answering questions about any part of this process.
What do you see for the future of vision research funding?
Over the past few years, it's been challenging to fund research because our resources have been somewhat taxed. It's frustrating because we haven't been able to support everything that we would like to, and in many ways, the scientific opportunities have never been greater. We hope that over the next few years this will change and that NEI and NIH will receive more sustained resources. Whatever the future may bring, we will use what we have to fund the best research possible to fulfill our mission and ultimately benefit public health.
Find out more about the NEI Extramural Research Program.