Question 10: Is methadone safe for pregnant women and their infants?
Answer: Yes. Since the early 1970s, methadone maintenance treatment has been used successfully with pregnant women. There is consensus that methadone can be safely administered during pregnancy with little risk to mother and infant. Maintenance on methadone is necessary to prevent relapse to illicit opioid use and thus to maintain optimal health during pregnancy.
Research Highlights
A systematic review revealed that randomized controlled studies of methadone treatment in pregnancy demonstrate an approximate threefold reduction in heroin use and a threefold increase in retention in treatment relative to nonpharmacologic treatment (Rayburn and Bogenschutz, 2004).
A review of the literature on methadone and lactation reveals that the amount of methadone in breast milk is very small and depends on the dose of methadone that a mother is receiving. The amount of methadone received by an infant from breast milk is not enough to prevent neonatal abstinence syndrome. Therefore, even though a mother is receiving methadone, her infant may require additional opiate treatment of neonatal abstinence syndrome (Jansson, Velez, and Harrow, 2004).
Methadone Safety for Pregnant Women and Their Infants – Figure 24 outlines key points discussed in the research citations above regarding the safety of methadone maintenance treatment for pregnant women.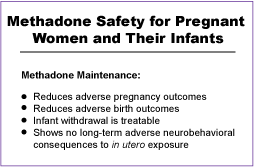 Figure 24 illustrates the safety of methadone maintenance treatment for pregnant women and their infants.
References
Finnegan L. Treatment issues for opioid-dependent women during the perinatal period. Journal of Psychoactive Drugs 1991;23:191-201.
Jansson LM, Velez M, Harrow C. Methadone maintenance and lactation: a review of the literature and current management guidelines. Journal of Human Lactation 2004;20(1):62-71.
Kaltenbach K, Finnegan L. Developmental outcome of children born to methadone maintained women: a review of longitudinal studies. Neurobehavioral Toxicology and Teratology 1984;6:271-75.
Kaltenbach K, Silverman N, Wapner R. Methadone maintenance during pregnancy. In: State Methadone Treatment Guidelines. Rockville MD: U.S. Department of Health and Human Services, 1993.
Rayburn WF, Bogenschutz MP. Pharmacotherapy for pregnant women with addictions. American Journal of Obstetrics & Gynecology 2004;191(6):1885-97.
Selwyn P, Schoenbaum E, Davenny K, Robertson VJ, Feingold AR, Shulman JF, et al. Prospective study of human immunodeficiency virus infection and pregnancy outcomes in intravenous drug users. JAMA 1989;261:1289-94