NCATS Holds First Council, CAN Review Board Meetings
Sept. 14, 2012, marked the first-ever meetings of the NCATS Advisory Council and Cures Acceleration Network (CAN) Review Board on the NIH campus in Bethesda, Md. Both groups are providing the NCATS director with guidance on the Center's initiatives, programs and policies. They also will make recommendations for achieving goals and overcoming significant barriers to successful translation of basic science into clinical application.
Former NCATS Acting Director Thomas R. Insel, M.D., shared the gavel with CAN Review Board Chair Freda C. Lewis-Hall, M.D., who also is an Advisory Council member, to open the joint meetings and welcome new members, respectively. Insel presented an overview of NCATS' mission and its role in translational research at NIH, budget details, recent science advances, and major Center milestones.
NIH Director Francis S. Collins, M.D., Ph.D., then joined the event to announce Christopher P. Austin, M.D., as the new NCATS director, effective Sept. 23, 2012. He heralded Austin as a visionary who will engage in disruptive innovation. Collins also lauded the progress NCATS has made thus far. "This team has been amazing in what they have accomplished in such a short time," he said in thanking the acting leadership for their dedicated service and contributions. "I am looking forward to seeing how NCATS will continue to develop and grow."
Austin had served as the director of NCATS' Division of Pre-Clinical Innovation since December 2011 and originally came to NIH in 2002 from Merck. Throughout his research career, he has kept the needs of patients at the forefront. In fact, it was Austin's inability to provide his patients with effective treatments that drove him back into basic science.
"I am deeply grateful to Francis for his confidence in my impending leadership," Austin said. "I am really humbled by this opportunity."
Austin shared that he looks forward to working with the Council members and is counting on their collaboration and expertise. "There is no way any one scientific discipline can accomplish what we want to do; we only can be successful if we do this together," he said. "There is a great enthusiasm and willingness to work collectively to deliver on the promise of basic research for the patients we all serve."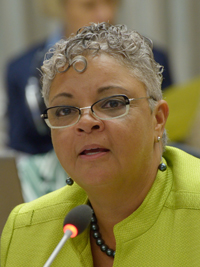 After the Austin announcement, Lewis-Hall joined NCATS Acting Deputy Director Kathy Hudson, Ph.D., to present and discuss the role of the CAN Review Board. They provided a brief history of CAN's establishment, its functions and its activities. In looking toward the future, they agreed that CAN should take risks, but the link between science and patients should be clear. Referencing the new opportunities ahead, including how CAN will support science that is catalytic, Lewis-Hall said, "Collaboration, coordination, communication and policy all will play a crucial role in our work to advance new treatments and cures for patients."
Josephine P. Briggs, M.D., acting director of NCATS' Division of Clinical Innovation (DCI), led DCI presentations focused on the Clinical and Translational Science Awards (CTSA) program and participated in a discussion of its goals, achievements and coordination. In addition, Briggs presented a concept proposal to strengthen community-engaged research.
Austin delivered the final presentation of the day, which focused on DPI. When a Council member asked, "how do we get medicines to patients faster through DPI?" he responded that "you walked right into my trap: through the CTSAs. Combining the power of these two groups, we can do some magical things."
View the archived videocast of the first Advisory Council and CAN Review Board meeting.