Question 15: Are there cost benefits to methadone maintenance treatment?
Answer: Yes. Research has demonstrated that methadone maintenance treatment is beneficial to society, cost-effective, and pays for itself in basic economic terms.
Research Highlights
A cost-effectiveness analysis reviewed five policy questions from an economic perspective: (1) whether methadone should be a healthcare benefit; (2) what level of ancillary services is optimal; (3) what methadone dose is appropriate; (4) what length of treatment is appropriate; and (5) whether contingency contracts should be employed. The analysis found that expanded access to methadone maintenance had an incremental cost-effectiveness ratio of less than $11,000 per quality-adjusted life year (QALY). Ancillary services were shown to be an effective part of methadone maintenance therapy, especially during the beginning of a treatment episode. The cost of additional methadone was found to be low compared with the benefits of adequate doses. Short episodes of methadone maintenance were felt not likely to be cost-effective (Barnett and Hui, 2000).
A unique and timely analysis was performed that focused on the cost-effectiveness of methadone treatment based on its impact on the HIV epidemic. The analysis considered populations in which HIV prevalence among injection drug users ranged from 5 percent to 40 percent. The results demonstrated that increased methadone maintenance capacity costs $8,200 per QALY gained in high-prevalence communities and $10,900 per QALY gained in low-prevalence communities. Interestingly, the majority of benefits were gained by individuals who do not inject drugs (Zaric, Barnett, and Brandeau, 2000).
Comparison of Treatment and Societal Costs of Active Heroin Addiction–A study of the cost benefits of methadone maintenance treatment showed that the costs to society of the criminal activities related to active heroin use can run as high as four times more than the costs for methadone maintenance treatment (Harwood et al., 1988).
Figure 30 illustrates the cost-benefit relationship. For example, if the approximate annual cost for providing methadone maintenance treatment is $2,400 per person, it would cost about $240,000 to provide treatment for 100 patients for 1 year. In contrast, the annual costs to society related to the criminal activities of 100 active heroin addicts not in treatment would exceed $960,000 (Harwood et al., 1988).
Through the New York State Department of Substance Abuse Services, NIDA researchers have estimated the yearly cost to maintain an opioid addict in New York: untreated and on the street ($43,000), in prison ($34,000), in a residential drug-free program ($11,000), and in methadone maintenance treatment ($2,400) (New York State Committee of Methadone Program Administrators, 1991).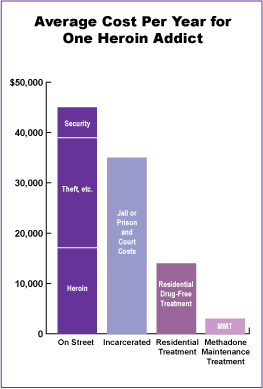 Figure 31 illustrates the cost of active heroin use for one addict for a year at about $43,000 in 1991. This includes the cost of the heroin, the loss of property related to theft and burglary, and the costs of security measures to combat such crimes.
References
Barnett PG, Hui SS. The cost-effectiveness of methadone maintenance. Mount Sinai Journal of Medicine 2000;67(5-6):365-74.
Barnett PG. The cost-effectiveness of methadone maintenance as a health care intervention. Addiction1999;94(4):479-88.
Gerstein DR, Harwood HJ (eds.). Treating Drug Problems. Volume I. Washington, DC: National Academy Press, Institute of Medicine, 1990.
Harwood HJ, Hubbard RL, Collins JJ, Rachal JV. The costs of crime and the benefits of drug abuse treatment: a cost-benefit analysis using TOPS data. In: Leukefeld CG, Time FM (eds.). Compulsory Treatment of Drug Abuse: Research and Clinical Practice. NIDA Research Monograph Series 86. Rockville, MD: National Institute on Drug Abuse, 1988.
Kraft MK, Rothbard AB, Hadley TR, McLellan AT, Asch DA. Are supplementary services provided during methadone maintenance really cost-effective? The American Journal of Psychiatry 1997;154(9):1214-19.
Masson CL, Barnett PG, Sees KL, Delucchi KL, Rosen A, Wong W, Hall SM. Cost and cost-effectiveness of standard methadone maintenance treatment compared to enriched 180-day methadone detoxification. Addiction2004;99(6):718-26.
McGlothlin WH, Anglin MD. Long-term follow-up of clients of high- and low-dose methadone programs. Archives of General Psychiatry 1981;38:1055-63.
New York State Committee of Methadone Program Administrators. COMPA's Five Year Plan for the Methadone Treatment System in New York State. New York: New York State Committee of Methadone Program Administrators, 1991.
Puigdollers E, Cots F, Brugal MT, Torralba L, Domingo-Salvany A. Methadone maintenance programs with supplementary services: a cost-effectiveness study. [Spanish] Gaceta Sanitaria 2003;17(2):123-30.
Rufener BL, Rachal JV, Cruz AM. Management Effectiveness Measures for NIDA Drug Abuse Treatment Programs. Cost Benefit Analysis. Rockville, MD: National Institute on Drug Abuse, 1977.
Vanagas G, Padaiga Z, Subata E. Economic efficiency of methadone maintenance and factors affecting it. [Lithuanian] Medicina (Lith) 2004;40(7):607-13.
Zaric GS, Barnett PG, Brandeau ML. HIV transmission and the cost-effectiveness of methadone maintenance.American Journal of Public Health 2000;90(7):1100-11
Important Dates
NIDA International Forum
June 14–17, 2013
Online Registration Deadline:
May 6, 2013
FELLOWSHIPS
IAS/NIDA Fellowships
Application Deadline:
February 10, 2013
NIDA International Program Fellowships 
Application Deadline:
April 1, 2013
Global Health Program for Fellows and Scholars
Application Deadlines: Vary
GRANTS
Brain Disorders in the Developing World: Research Across the Lifespan
(Non-AIDS)
R01 PAR-11-030and R21 PAR-11-031

Application deadline:
February 14, 2013
MEETINGS
American Association for the Advancement of Science 
February 14–18, 2013
Boston, Massachusetts, USA
International Drug Abuse Research Society (IDARS)
April 15–19, 2013
Mexico City, Mexico
2013 International Conference on Global Health: Prevention and Treatment of Substance Abuse and HIV
April 17–19, 2013
Taipei, Taiwan
Yih-Ing Hser, Ph.D.