Science Education: Cell Biology
Understanding the structure and function of cells and their many parts, in health and in disease—that's cell biology. Studies in cell biology focus on questions like:
How do cells move, communicate, divide and ultimately die?
How are cellular components made and maintained?
What tools do we need to study cells up close and in real time?
Follow the links below to learn more about cell biology, including recent discoveries, and read profiles of researchers working in this field.
---
Booklets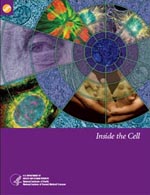 Inside the Cell
Explores the interior design of cells and vividly describes the processes that take place within cellular organelles and structures.
The Structures of Life
Reveals how understanding the shape of biological molecules involved in many cellular processes provides insight into health and disease.
---
Classroom Poster

Seeing Cells Poster
Displays a variety of cell images and some basic facts about cells.
---
Fact Sheet
Cells
Trillions of cells make up our bodies, and researchers continue to learn more about their features and functions. Discover some recent advances.
---
Research News
Toxicity of Huntington's Disease Protein Linked to Other Proteins
The protein responsible for Huntington's disease is more toxic in the presence of certain other proteins.
Hsp33: Extending a Helping Hand in Times of Trouble
A new study shows how a molecular chaperone protects proteins under stress.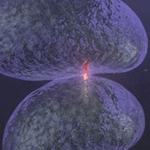 Bacterial 'Daggers' in Action
Bacteria have evolved a number of mechanisms to secrete material into the environment and sometimes into neighboring cells, and now scientists better understand how one of them works.
---
Articles

What Students Want to Know About Cells
NIH scientists answer questions from middle and high school students about the cell and careers in research.
Lactation Protein Might Hold Key to Early Breast Cancer Detection
Scientists discovered that the Elf5 protein in human breast cells staves off cancer and may serve as a potential early detection tool for breast cancer.
The Big, Fat World of Lipids
Your body contains thousands of types of fats, or lipids. With improved tools and methods, researchers are learning more about lipid diversity and function.
---
Profiles: Meet a Scientist

Green Light
Chemist Marc Zimmer studies protein molecules that make animals glow in the dark—and help scientists study their cells.

Mastering Stem Cells
Researcher Peggy Goodell pursues the properties and uses of stem cells.
The Forces That Bind
Engineer Andrés García studies cell stickiness to create new biomaterials that can heal bones and other body tissues.
---
Audio and Video
Cool Video: How Cilia Do the Wave
Thin, hairlike biological structures called cilia are tiny but mighty. Working together, cilia play essential roles in human health, such as sweeping debris from the lungs.
Cool Video: Beating Bleeding
Watch proteins in action as they signal blood to clot after an injury.

Modeling How HIV Latches on to Immune Cell Receptors
This model shows how HIV, in gray, might latch on to immune cell receptor molecules, allowing the virus to enter and infect the cell.
---
Images
Cool Image: Bacterial Growth in Multicolor
Adding different colored fluorescent dyes during various phases of bacterial cell growth reveals how bacteria grow—and might one day lead to improved antibiotics.
Actin Flow
Speckle microscopy analysis of actin cytoskeleton force.
Animal Cell
A typical animal cell, sliced open to reveal cross-sections of organelles.
---
Quizzes and Puzzles

Test Your Science IQ! Game: Cells
HTML Versions: High School Level | College Level | Graduate Level
Interactive Version
Inside the Cell Crossword Puzzle | Accessible Version
Related Links
Cellular Imaging and Related News Releases
The Cell: An Image Gallery
This page last reviewed on December 13, 2012