Science Education: Chemistry and Biochemistry
Understanding the interactions between molecules—that's chemistry. And understanding the chemistry that occurs in living organisms—that's biochemistry. Studies in these areas focus on questions like:
How do enzymes generate cellular energy and facilitate chemical reactions?
What roles do natural substances like fats and sugars play in our bodies?
How can we use chemistry to design new medicines?
Follow the links below to learn more about chemistry and biochemistry, including recent discoveries, and read profiles of researchers working in these fields.
---
Booklets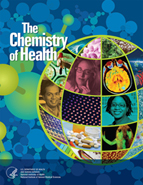 The Chemistry of Health
Showcases the many ways that chemistry is helping make the world healthier.
Computing Chemistry from Computing Life
Explores how combining chemistry and computers helps scientists develop new medicines and new materials.
---
Classroom Poster
The Chemistry of Health Poster
Get inspired by chemistry.
---
Fact Sheet
NIGMS Nobelists
NIGMS has a strong track record of funding scientists who receive Nobel Prizes. Learn about NIGMS-funded scientists who have received a Nobel Prize for their chemistry-related discoveries.
---
Research News
Traditional Chinese Herbal Medicine Yields Its Secrets
Chang San, a Chinese herbal medicine, has been used for thousands of years to treat malaria fevers, and now scientists better understand how it works.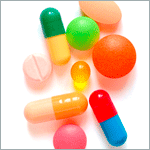 New Approach May Accelerate Drug Discovery
A toolkit of chemical reagents that can accelerate the process of synthesizing chemical structures found in many drugs may speed drug development and reduce its cost.
Cancer Uses Special Sugar to Usurp Cells
Cancer cells add a sugar tag to an enzyme, shutting it down and forcing cells to promote cancer growth.
---
Articles
The Greening of Chemistry
Researchers are developing new reactions that make the chemical processes used to manufacture medicines, plastics and other products cleaner, faster and cheaper.

Metals: In Sickness and in Health
We're not quite Iron Man, but metals are intricately entwined with our bodies. They make vital functions like respiration, circulation and reproduction possible.
Nature: The Master Medicine-Maker
Plants, bacteria, fungi and other organisms are a prolific source of new drugs. Chemists seek to discover, examine and modify natural products with the hope of developing new medicines to improve human health.
---
Profiles: Meet a Chemist
Mesmerized by Metals
Biochemist Amy Palmer tracks zinc in brain cells to uncover the causes of Alzheimer's disease, diabetes and prostate cancer.
Drugs from Deep Down
Biosynthetic chemist Brian Bachman studies secondary metabolites found in caves to help find cures for diseases.
Molecular Prosthetics
Organic chemist Martin Burke is developing new chemical synthesis techniques to make substances that could restore function to molecules.
More profiles from The Chemistry of Health and Findings
---
Audio and Video

Cool Video: Repurposing Genes, Repurposing Drugs
Using an evolutionary approach, researchers have determined that a compound used to treat parasitic and fungal infections could also reduce the size of tumors.

Dr. Martin Burke on Being a Chemist
Martin Burke discusses his current research and how he got interested in it.

Dr. Michael Rogers on Small-Molecule Chemistry
NIGMS' Michael Rogers talks about small-molecule chemistry.
---
Images
Fruitful Dyes
These colorful, computer-generated ribbons show the backbone of a molecule that glows a fluorescent red.
Carbon Building Blocks
The arrangement of identical molecular components can make a dramatic difference.
---
Puzzle
The Chemistry of Health Crossword Puzzle | Accessible Version
This page last reviewed on January 17, 2013