Nov 21, 2012
Help For Hurricane Sandy Survivors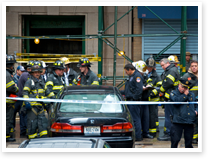 Two days before Halloween, Americans in 21 states were frightened by a real-life monster known as Hurricane Sandy, a super storm that sparked unprecedented rain, snow, floods, fires, and destruction to property and infrastructure estimated in the tens of billions of dollars.
For the millions of disaster survivors left in Sandy's wake,
Benefits.gov
can help. Our secure site is the official government source for over 1,000 assistance programs. And, our confidential prescreening tool, the
Benefit Finder
, lets users create a customized list of potential benefits based on their personal needs and interests. While Benefits.gov is dedicated to helping citizens find general assistance, the
Federal Emergency Management Agency (FEMA)
is leading the Federal government's recovery effort on the ground and online through the
DisasterAssistance.gov
website, which helps users find and apply for assistance from the 17 different Federal agencies that participate in this E-Government initiative.
Because of the destruction caused by Hurricane Sandy, President Obama made individual disaster aid available through FEMA to certain residents in designated counties within
Connecticut
,
New York
, and
New Jersey
. The president also made public assistance available to government/Tribal officials in these states along with
New Hampshire
,
West Virginia
, and
Rhode Island
. Click on your state to learn about the specific types of assistance available in your region. FEMA's telephone hotline is also available on 1-800-621-3362. Disaster assistance applicants with a speech disability or hearing loss can use TTY by calling 1-800-462-7585 directly; for those who use 711 or Video Relay Service (VRS), call 1-800-621-3362.
In addition to the types of assistance provided by FEMA, the
Small Business Administration (SBA)
and the
Internal Revenue Service (IRS)
, partners with Benefits.gov, also offer the following programs for disaster survivors:
HOUSING:
BUSINESS LOANS:
Business Physical Disaster Loans - Businesses of all sizes (these are the only SBA loans not limited to small businesses), non-profits, and private organizations located in a declared disaster area can apply for low-interest, long-term loans for losses not fully covered by insurance or other recoveries (to learn the differences between Federal loans and grants - click here). The loans may be used to repair and rebuild non-farm, private sector disaster losses, with up to $2 million (actual loan amounts are based on amount of uncompensated damage) to fix or replace real property, machinery, equipment, fixtures, inventory, and leasehold improvements.


Business Recovery Centers - These centers, operated by SBA, provide one-on-one guidance to businesses and are currently open in Brooklyn, NY and Manahawkin, NJ.
TAX COUNSELING:
Disaster Assistance and Emergency Relief Program - The IRS provides tax counseling and assistance to taxpayers free of charge, whose property has been damaged or lost in a federally declared disaster area. Assistance may come in the form of help with filing claims for tax refunds; tax information and assistance; how to reconstruct destroyed financial records; copies or transcripts of previously filed tax returns, and more.
LEGAL SERVICES:
Disaster Legal Services (DLS) - DLS provides legal assistance to low-income individuals who, prior to or as a result of a Presidentially declared major disaster, are unable to secure legal services adequate to meet their disaster-related needs.
To expand your search for assistance beyond the programs mentioned here, visit our
homepage
and try Benefit Finder or browse the programs by selecting "Benefits" at the top of the page to search by category, state, or Federal agency.