NIDA Director Nora D. Volkow, M.D.; Carlo Giovanardi, Undersecretary for the Family, Drugs and Civil Service, Presidency of the Council of Ministers, Italy; and Giovanni Serpelloni, M.D., Department for Anti-drug Policies (DAP), Presidency of the Council of Ministers, Italy, agreed July 25, 2011, to foster mutually beneficial research and research training to improve the diagnosis and treatment of drug abuse and addiction.
The memorandum of understanding cited three research areas of particular interest for the two agencies:
Develop new treatment medications.
Improve early detection, screening, brief interventions, and referral to treatment (SBIRT), particularly among adolescents and young adults.
Increase the number of HIV-infected drug users who seek treatment for HIV infection and addiction (the "seek, test, treat, and retain" strategy).
The agreement establishes a binational working group to coordinate future collaborative activities. Priorities include partnerships between the NIDA Clinical Trials Network (CTN) and DAP, as well as cross-national training activities such as:
Short-term visits by Italian scientists to NIDA-supported research labs and visits by U.S. scientists to Italy.
Participation by U.S. scientists in Italian training programs such as the National School on Addiction at the Scuola Superiore di Formazione della Pubblica Amministrazione in Rome.
Improving medical education following the NIDA Centers of Excellence for Physician Education model.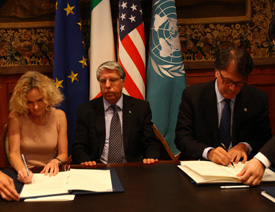 Dr. Volkow, Undersecretary Giovanardi, and Dr. Serpelloni (left to right) sign the memorandum of understanding.
NIDA staff serving on the binational working committee include Dr. Volkow, Betty Tai, Ph.D., CTN, and Antonello Bonci, M.D., Intramural Research Program.
The NIDA-DAP agreement follows a July 11, 2011, agreement between the White House Office of National Drug Control Policy (ONDCP) and the Italian Ministry for Family, Drugs and Civil Service to provide a foundation for increased collaboration, cooperation, and partnership between the two nations in the fields of addiction research, clinical best practices, and drug policies. The ONDCP agreement specifically called for increased cooperation between U.S. and Italian public health research institutes and clinical centers on prevention, early intervention, treatment, rehabilitation, recovery, and reintegration of drug abusers.