Videos & Slideshows
Photo Galleries and Slideshows
A Little Luck, a Lot of Pluck, a New Home for Youth
In just a few short months, a Washington, DC, organization garnered the money, materials and manpower to begin renovating a dilapidated house.
'Ending Homelessness is a Team Sport'
NCFY joined with Street Soccer USA to put together a slideshow of photos and stories of young people who played in the 2011 Street Soccer USA Cup last June.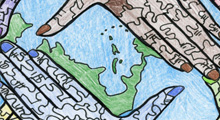 Piecing Together a Mural at Carolina Youth Development Center
Young people often enter Carolina Youth Development Center's residential programs feeling lost and broken. The center helps them put the pieces of their lives back together.