Item 1 of 1
Click on picture for larger image, full item, or more versions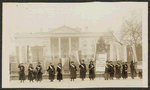 Item Title
Penn[sylvania] on the picket line-- 1917.

Author/Creator
Photographer: Harris & Ewing, Washington, D.C.

Created/Published
1917

Notes
Summary: Photograph of fourteen suffragists in overcoats on picket line, holding suffrage banners in front of the White House. One banner reads: "Mr. President How Long Must Women Wait For Liberty". White House visible in background.
Title transcribed from item.
Subjects
United States--District of Columbia
Picketing
Women--Suffrage--Pennsylvania
National Woman's Party
Suffragists--United States--1910-1920
White House (Washington, D.C.)
Women--Suffrage--Washington (D.C.)
Photographs

Object Type
Medium
1 photograph: print; 4 x 7 in.

Call Number
Location: National Woman's Party Records, Group I, Container I:160, Folder: Pickets, 1917

Part of
Records of the National Woman's Party

Repository
Library of Congress, Manuscript Division, Washington, D.C. 20540 USA

Digital ID
mnwp 160022
http://hdl.loc.gov/loc.mss/mnwp.160022