News and Events
Contact:
National Eye Institute
(301) 496-5248
neinews@nei.nih.gov

New Online Features Translate Vision Science to Everyday Life
NEI Press Release
National Institutes of Health
National Eye Institute
NEI Multimedia News Release
May 18, 2009
Nearly 14 million Americans experience vision problems, ranging from the need for glasses to blindness. The National Eye Institute (NEI), part of the National Institutes of Health, supports vision research that leads to sight-saving treatments for these conditions. During Healthy Vision Month this May, NEI unveils three online resources for the public to get an inside look at the research process and its impact on public health.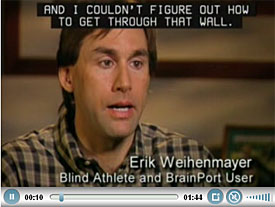 Eye on NEI will feature in-depth stories, interviews with researchers, vision science images, and answers to eye health questions. The first biweekly edition includes a profile of Erik Weihenmayer, the only blind man to reach the summit of Mount Everest. Weihenmayer recounts his experiences with testing a breakthrough vision device known as BrainPort. The device, developed with NEI support, allows visually impaired people to "see" objects and words by relaying electrical signals from the tongue to the brain. Watch Video.
This interactive timeline details the research path toward gene therapy treatment for Leber congenital amaurosis (LCA), a blinding genetic condition that affects the eye's retinal tissue. In a recent NEI-supported study, three young adults with LCA experienced improvements in day and night vision after undergoing gene therapy. The timeline incorporates video interviews with researchers, scientists, and medical experts to trace the scientific process from the laboratory bench to the patient's bedside. View Timeline.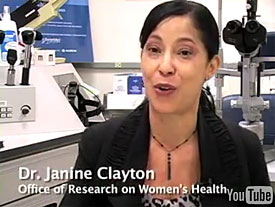 Many vision problems can go undetected without regular, comprehensive dilated eye exams. In vodcast and podcast interviews for the new Healthy Eyes Web page, NEI's Dr. Janine Austin Clayton explains that nearsightedness, farsightedness, astigmatism, and presbyopia are common vision problems that are easily corrected once diagnosed. Visitors can also use the Web page to send free e-cards to encourage family and friends to get their vision checked. Watch Video.
# # #
The National Eye Institute (NEI), part of the National Institutes of Health, leads the federal government's research on the visual system and eye diseases. NEI supports basic and clinical science programs that result in the development of sight-saving treatments. For more information, visit www.nei.nih.gov.
The National Institutes of Health (NIH) - The Nation's Medical Research Agency - includes 27 Institutes and Centers and is a component of the U. S. Department of Health and Human Services. It is the primary Federal agency for conducting and supporting basic, clinical, and translational medical research, and it investigates the causes, treatments, and cures for both common and rare diseases. For more information about NIH and its programs, visit www.nih.gov.