Floor Plans: West Building | East Building
Please note that building floor plans are also available at the Art Information Desks.
Ground Floor
|
Main Floor
|
Key and Legend
See also,
Architecture Tours
Ground Floor
On the Ground Floor are galleries of prints, drawings, paintings, sculpture, decorative arts, and temporary exhibitions; the Garden Café the West Building sales shop; and the West Building Lecture Hall.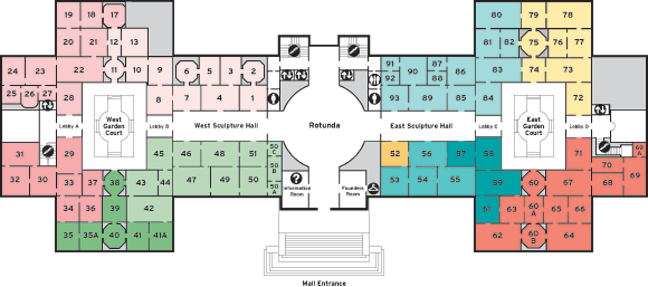 Main Floor
European paintings and sculpture, from the thirteenth through the sixteenth centuries, American art, and temporary exhibitions are on the Main Floor.
Key and Legend
| | | | |
| --- | --- | --- | --- |
| | Men's Restroom (disabled access may require some assistance) | | Women's Restroom (disabled access may require some assistance) |
| | Family Restroom (for visitors requiring assistance from their companions) | | Checkroom |
| | Art Information | | TDD Phone |
| | Telephone | | First Aid |
| | Assistive Listening Device | | Elevator (all elevators are accessible to visitors with disabilities) |
| | Escalator | | Café or Food Service |
| | Facility for Visitors with Disabilities | | Stairway |