NCFY Recommends: This Holiday Season, Encourage Youth to Support Friends With Mental Illness
tags:
We all get by with a little help from our friends, so why not empower young adults to support their peers diagnosed with a mental illness? That is the thinking behind the Mental Health Campaign for Mental Health Recovery, which seeks to educate 18- to 25-year-olds so they can support friends and classmates struggling with mental illness.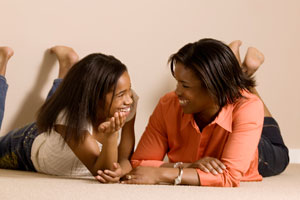 The Substance Abuse and Mental Health Services Administration oversees the campaign and a website aimed at promoting it. The site, called What a Difference a Friend Makes, includes
Information about conditions like depression and schizophrenia, including common myths and facts. There is also a link to other youth-friendly resources on mental health.
Tips on how to support a friend experiencing mental illness.
Personal stories from young people with mental illness. (Youth can submit their own stories for possible inclusion.)
SAMHSA also has versions of the site aimed at African American, Native American, Spanish-speaking and Mandarin Chinese-speaking youth.
More From NCFY
"Primary Sources: Bolstering Mental Health Among Young People"
"Q&A: Using Yoga to Overcome Trauma"
"Research Roundup: Mindfulness Meditation May Help Homeless Youth Cope With Anxiety and Stress"