News and Events
News Brief
Alcon Research Institute Awards Rachel Caspi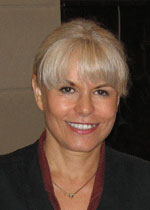 Rachel Caspi
Dr. Rachel Caspi, chief of the NEI's Immunoregulation Section in the Laboratory of Immunology, recently received an Alcon Research Institute Award. This award was set up to support research in eye health and to expand the frontiers of vision sciences throughout the world. This year, Alcon awarded six outstanding vision researchers with $100,000 each in funding, an invitation to an honorary symposium, and lifetime membership in the Alcon Research Institute.
Dr. Caspi came to the NEI in 1984 as a post-doctoral fellow and quickly established herself as a leading investigator in the field of uveitis research. Her primary focus is on the cellular and molecular changes that may cause the immune system to attack eye tissues.
Dr. Caspi's research interests include cellular and molecular mechanisms involved in T cell-mediated, tissue-specific autoimmunity. She is focused on understanding the development and maintenance of self-tolerance to immunologically privileged retinal antigens, and on defining the processes that lead to their pathological breakdown. Her goal is to use this knowledge for designing new and effective strategies for immunotherapy.
Posted: June 2012