News and Events
News Brief
United States and United Kingdom Collaborate on Ocular Immunology
The NEI, part of the National Institutes of Health (NIH), has become the first U.S. government agency to develop a formal collaborative research and training agreement with the United Kingdom's National Health Service (NHS). The agreement was signed earlier this year. Human ocular immunology will be the initial focus of the collaboration. Human immune system response can lead to inflammation which has been associated with diseases such as uveitis, age-related macular degeneration, and diabetic retinopathy.
The program was launched in London on May 22, 2012, with a formal symposium, facility visits and other related activities. The current collaborating institutions include University College-London, University of Bristol, Moorfields Eye Hospital in London as well as the NIH Clinical Center in Bethesda, Maryland.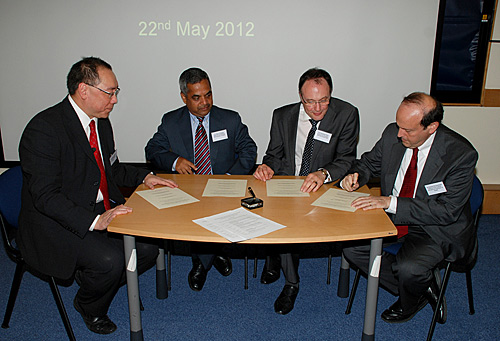 Left to right: Prof. Peng Khaw, director, Moorfields Eye Hospital; Dr. Gyan "John" Prakash, NEI associate director for international programs; Prof. Andrew Dick, professor of ophthalmology, Bristol Eye Hospital; and Dr. Robert Nussenblatt, chief, NEI Laboratory of Immunology launch the first collaborative research and training agreement between the NIH and the UK's National Health Service.
Posted: June 2012