NCFY Recommends: A Step-by-Step Guide to Helping Youth Gain Workforce Credentials
tags: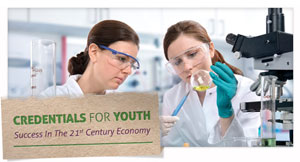 Do you want to help youth find a career that matches their goals and interests instead of landing just any job? If you answered yes, you're in luck. The U.S. Department of Labor's Division of Youth Services recently added to its Youth Connects website a section called Credentials for Youth. The new Web pages help youth identify the skills they need to work in a number of growing industries.
We like this tool because of its step-by-step approach to identifying careers that may be a good match, and because it tells youth how to get the experience to make those careers a reality. Although the resource was created primarily for workforce investment staff, it is helpful for anyone pointing youth toward a brighter future.
Credentials for Youth also links to other useful websites, such as CareerOneStop and My Next Move.
On November 15, the Department of Labor will host a live chat to talk about Credentials for Youth and the growing number of programs that help young people earn credentials or move into employment. The chat is open to members registered with Workforce3One, a collection of the Department of Labor's online workforce development communities. Participants will need to log in to the Youth Community of Practice forum on November 15 and click on the "Chat" link near the top of the page. You can email questions about the chat to the Division of Youth Services.
More From NCFY
From the Street to the Office: Helping Homeless Youth Recognize Their Workplace Potential
NCFY Recommends: Connect Youth with Jobs
Youth Speak Out: A Journey From Homelessness to a Career in Youth Work
Audio Article: Helping Youth Become Self-Sufficient