Home
»
News and Events
» NEI Researcher Hikosaka Elected to American Academy of Arts and Sciences
NEI Researcher Hikosaka Elected to American Academy of Arts and Sciences
News Brief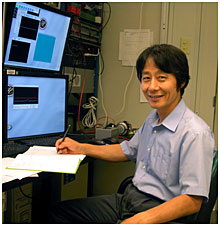 Dr. Okihide Hikosaka, a senior intramural NEI researcher, has been elected to the American Academy of Arts and Sciences, a distinguished society whose members include some of the world's most accomplished and influential professionals. He will be inducted at a ceremony on October 1, 2011 at the Academy's headquarters in Cambridge, MA.
Dr. Hikosaka is chief of the Neuronal Networks Section in the Laboratory of Sensorimotor Research (LSR). He obtained M.D. and Ph.D. degrees from the University of Tokyo in 1973 and 1978 and did postdoctoral work in the LSR from 1979 to 1982. He held faculty positions at Toho University School of Medicine in Tokyo, the National Institute of Physiological Sciences in Okazaki, and Juntendo University School of Medicine in Tokyo before returning to LSR in 2002 as a senior investigator.
Dr. Hikosaka has contributed greatly to the scientific community. His work on how certain neurons in the brain help to control and adjust many automatic nervous system functions, such as eye movements, has been published in more than 100 papers, many in high profile journals. He has written several review articles and contributed to more than 30 book sections. He also serves on the editorial boards of Trends in Cognitive Sciences and Current Opinion in Neurobiology.
Dr. Hikosaka's work has been recognized with many scientific awards. Now, with this prestigious election to the Academy, Dr. Hikosaka is being recognized for his cumulative contribution to science. Congratulations Dr. Hikosaka!