NEI Press Release
National Institutes of Health
National Eye Institute
Contact:
National Eye Institute
(301) 496-5248
neinews@nei.nih.gov

President Bestows Awards to Two National Eye Institute Scientists
November 29, 2010
Brian P. Brooks, M.D., Ph.D.
The White House has honored two members of the National Eye Institute (NEI) research community with one of its most prestigious awards. Brian P. Brooks, M.D., Ph.D., a member of the National Eye Institute (NEI) Intramural Research Program and chief of the NEI Unit on Pediatric, Developmental, and Genetic Ophthalmology, and Doris Y. Tsao, Ph.D., an NEI grantee and assistant professor of biology at the California Institute of Technology (Caltech), were among a distinguished group of 85 researchers selected to receive the 2009 Presidential Early Career Awards for Scientists and Engineers (PECASE).
The Presidential early career awards represent the highest honor bestowed by the U.S. government on outstanding scientists and engineers beginning their independent careers. The awards embody the high priority placed by the government on maintaining the leadership position of the United States in science by producing outstanding researchers who will broadly advance science and the missions important to their agencies. Only 20 of this year's PECASE recipients, who are selected by the White House from 10 federal departments and agencies, were from the broad National Institutes of Health (NIH) community of many thousands of scientists. As award recipients, Dr. Brooks and Dr. Tsao have demonstrated exceptional leadership potential at the frontiers of scientific knowledge.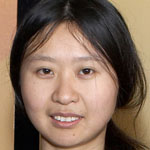 Doris Y. Tsao, Ph.D.
Dr. Brooks is being recognized for his research on the molecular genetics and developmental studies on uveal coloboma, a congenital ocular disease that accounts for about 10 percent of childhood blindness. He is also involved in collaborative research projects on a number of inherited eye diseases, including Bardet-Biedl syndrome, mitochondrial disorders, and albinism. Dr. Brooks serves as principal investigator for the National Ophthalmic Disease Genotyping and Phenotyping Network (eyeGENE®) and as senior ophthalmic consultant for the NIH Undiagnosed Diseases Program. He also directs the Ophthalmic Genetics Clinic at Children's National Medical Center in Washington, DC. Dr. Brooks received his M.D. and Ph.D. from the University of Pennsylvania. He has also received a Young Investigator Award from the American Association of Pediatric Ophthalmology and Strabismus, and the NIH Director's Award.
Dr. Tsao's research focuses on understanding how the brain interprets and transforms visual information into various three-dimensional shapes and forms, human faces in particular, using brain imaging and electrical recordings from single neurons. Knowledge of how faces are recognized by the brain may shed light on clinical conditions such as prosopagnosia (the inability to recognize faces), autism, and other social anxiety disorders. Dr. Tsao received her Ph.D. from Harvard University in 2002. Her research has won numerous awards, including a Sofia Kovalevskaya Award from the Humboldt Foundation in 2004, which allowed her to establish her own lab at the University of Bremen, Germany. Dr. Tsao joined the faculty at Caltech in 2009.
See a photo of the 2009 PECASE Recipients
Posted: November 2010