Research Roundup: Mindfulness Meditation May Help Homeless Youth Cope With Anxiety and Stress
tags: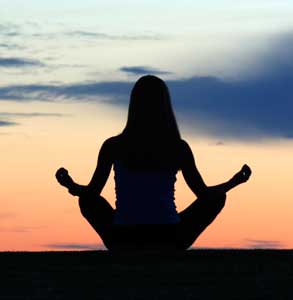 Violence and stress are an alarming fact of life for many homeless youth. To reduce the effects of those traumatic experiences, some youth-serving organizations have turned to mind-body practices that may help young people control disturbing emotions and behavior and lessen their anxiety and depression.
One such practice is mindfulness meditation. Youth focus on something neutral—say, their own breath—and this quiet activity lets their bodies and minds relax.
Practicing mindfulness meditation can help young people step back and get some perspective on their emotional state, writes the author of a recent article (PDF, 538KB) in Focal Point, a periodical about youth mental health from Portland State University. With distance, says the author, youth can respond to their experiences in a more conscious and less reactive way.
Can Mindfulness Meditation Help Homeless Youth?
Mindfulness meditation has been used successfully to improve quality of life for survivors of child sexual abuse, people addicted to drugs, and people with mental illness. Researchers from Emory University, in Atlanta, recently sought to find out whether the practice works for homeless youth, too.
The Emory researchers took an intervention originally used at Yale University School of Medicine with participants in a drug addiction and HIV prevention program and tweaked it to make it suitable for homeless youth staying in shelters.
The researchers studied 39 homeless youth, ages 18 to 21. At the start of the study, the young people took a survey that assessed their impulsiveness, resilience, spirituality, mental wellness, and psychological symptoms. They answered the same survey after attending at least four mindfulness meditation sessions. The second time around, young people had increased resilience, decreased emotional distress, and increased feelings of calm and purpose.
The results of the study are forthcoming in the Journal of Child and Family Studies.
How to Do Mindfulness Meditation
The author of the Focal Point article breaks mindfulness meditation down into four steps:
1. Breathe with a slight elongation of the out-breath to help calm the mind.
2. Be in the present instead of obsessing about the past or worrying about the future.
3. Let go of unnecessary anxiety by understanding which situations can be changed and which cannot.
4. Accept that the mind will wander, take a breath, and begin again.
Read the Articles
"Mindfulness as Self-Care Strategy for Emerging Adults" (PDF, 538KB). Focal Point, Summer 2012.
"Spirituality Development for Homeless Youth: A Mindfulness Meditation Feasibility Pilot" (abstract). Journal of Child and Family Studies (forthcoming).
(Publications discussed here do not necessarily reflect the views of NCFY, FYSB or the Administration for Children and Families. Go to the NCFY literature database for abstracts of these and other publications.)
Tell Us What You Think
Do you use mindfulness meditation or similar practices in your work with young people? What changes do you see in them when they practice meditation? Let us know by posting your comments on our Facebook timeline!