Bright Idea: A Virtual Treatment Helps Youth Heal from Trauma
tags: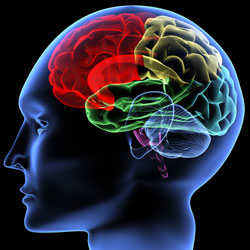 The young man was one of the most challenging clients Michelle Hall had ever encountered. He fought with staff and seemed deeply unhappy. What turned him around and helped him recover from trauma were video games.
Not Grand Theft Auto or Call of Duty, but games designed to relax the brain and reward it in a procedure called "neurofeedback." At the time, Oasis Center in Nashville, TN, where Hall is now director of the transitional living and street outreach programs, was across the street from a neurofeedback clinic. Youth, including the challenging young man, were invited to try out a free session.
"Every time he'd come back across the street he'd look relaxed," Hall said. "His behavior completely changed."
Neurofeedback was so successful for the young man and other youth, that in 2010 Oasis Center raised $10,000 to purchase one machine and train two staff members. The demand from youth has been so high that the program has since purchased a second machine and is training ten more staff members to use it.
Hall says the therapy works well to reduce stress, aches and pains, insomnia and other symptoms experienced by homeless youth who've gone through trauma, such as extreme poverty or physical and sexual abuse, from an early age. For these young people, she says, more typical relaxation techniques such as meditation and body-centered therapy just aren't enough.
Re-Training the Brain
In a neurofeedback session, a trained health worker attaches electrodes to the patient's head. The electrodes send messages to a computer the health worker monitors. On a second screen, the young person sees a video that relaxes the brain. When the computer senses the youth relaxing, there's a virtual reward--a space ship flying onscreen or music playing, for example. In essence, the patient's brain is playing a video game with itself.
Each session takes about an hour. The number of sessions depends on the number and severity of a youth's symptoms, but Hall says research shows that the average young person needs 20 sessions. Homeless youth have typically experienced more trauma and will require more than 20 sessions, ideally a least two sessions per week, Hall says, though offering the ideal amount of therapy is a challenge with limited staff.
"Right now we offer it to every youth that comes into our transitional living program and tell them it's completely voluntary," Hall says. More than half of youth agree to the treatment.
The benefits they experience go beyond soothing a headache or getting a full night's sleep, Hall says. "This is helping youth stay in their bodies, stay in their programs and stay in their relationships."
Find a neurofeedback provider in your area on the EEGInfo website.