eyeGENE®—National Ophthalmic Disease Genotyping Network
Information for Health Care Professionals
What is eyeGENE®?
The National Ophthalmic Disease Genotyping and Phenotyping Network (eyeGENE®) was created by the National Eye Institute (NEI), part of the National Institutes of Health (NIH), in partnership with laboratories across the vision research community. The major purpose of the Network is to facilitate research into the genetic causes of ophthalmic disease by broadening patient accessibility to diagnostic genetic testing. The eyeGENE® Network currently includes a Coordinating Center at the NEI, >10 CLIA†-approved molecular genetic testing laboratories around the Nation, a centralized repository for blood/DNA, and a shared genotype/phenotype database. The aim of this initiative is to stimulate patient and eye health care provider interest in genetics-based clinical care and generate involvement in ophthalmic research.
How can I get my patients enrolled in eyeGENE®?
Determine if a patient has an inherited eye disease. Make a potential diagnosis.
Determine whether a test for that diagnosis is available through eyeGENE®. A list of disease-causing genes for which testing is currently available can be found here.
Register online to become an eyeGENE® database user.
Any health care provider practicing within the US or Canada, who follows patients for an eye-related condition may register (e.g., ophthalmologist, optometrist, geneticist, genetic counselor, neurologist, etc.)
Register here. The eyeGENE® Coordinating Center will review your information for approval.
Fill out required family history and clinical questions online.
Ensure that the patient completes and signs a Research Consent Form and a DNA Diagnostic Form. Patients may choose to receive their molecular test results back and whether they would like to be re-contacted for future research and/or clinical treatment studies.
Complete the Clinician's Assurance Form and provide or arrange for genetic counseling to the patient, pre- and post-testing.
Draw approximately 30 ml of blood from adult participants or 7 ml of blood from children in K2 EDTA tubes.
Ship the samples to the Coordinating Center with the proper forms enclosed. Forms include the Clinician's Assurance, Blood Specimen Shipping Request printed from the database, Research Consent Form (Assent Form for minors), and DNA Diagnostic Consent Form. There are no costs to you or the patient for molecular diagnostic testing. eyeGENE® will cover these costs. However, blood draw and shipping charges are NOT covered by eyeGENE®.
*Unlabelled blood samples and blood samples obtained greater than 72 hours before receipt will not be accepted. Please contact the eyeGENE® Coordinator for more information on procedures to be followed when shipping blood samples to eyeGENE®. 8. Once results are available, a molecular diagnostic report is sent to you, and results are posted online through the eyeGENE® database.
Is there a limit to the number of samples I can send to the eyeGENE® Network?
If you anticipate sending more than 10 patients/ year to the Network, you must submit the eyeGENE® protocol to your local IRB. Once your local IRB approves the eyeGENE® protocol, you will be part of the Network and may submit samples at any time. One benefit to being part of eyeGENE® is that you (and any associate investigators you list on your protocol) may submit patient blood samples for genetic testing at any time and for any ophthalmic disease being tested by the Network. If you are not associated with an academic institution you will need to pass the protocol through some other IRB, such as the Western IRB (WIRB).
If you anticipate recruiting only a small number of patients (less than 10 patients/ year), eyeGENE® does not require you to submit the protocol to your own IRB; however, you should check with your local IRB for their requirements and regulations.
What is the turnaround time?
Turn around time will vary by the gene tested. On average, it will take the Network 4 to 6 months to carry out testing, but it may take longer depending on the gene/genes being tested. Note that the turnaround time is computed from the time all the required documentation is received and online data is complete. DNA samples will not be sent for diagnostic testing until sufficient clinical criteria have been entered into the online database by the referring eye health care provider and signed and completed consent forms and an eyeGENE form for blood shipment have been received by the eyeGENE Coordinating Center. Incomplete consent forms or incomplete clinical data will add to the turnaround time. Once all the consent forms are received and all the online data are complete, the sample will be sent for molecular testing.
How is eyeGENE® structured?
Below is a diagram depicting eyeGENE®'s overall structure.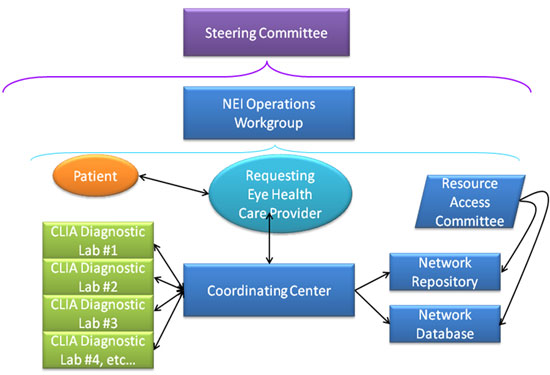 What are the benefits of eyeGENE®?
For patients: aid research and receive accurate molecular diagnostic genotyping, and the possibility to be contacted for future research studies.
For referring eye health care providers: a secure centralized system for genetic testing and accessible web-based information; a standardization/refinement of clinical phenotypic descriptors. Providers also have an oppurtunity to be contacted for possible research collaborations.
For researchers: a repository of linked phenotype-genotype data, and the possibility of identifying patients for research and/or future clinical trials.
How do I get started?
Register at the National Eye Gene website or
Contact the eyeGENE® Coordinating Center
Telephone: 301-435-3032
E-mail: eyeGENEinfo@nei.nih.gov