Tips for Working with Media
Working With the Media to Promote Eye Health Programs and Events
The media have an enormous influence on our society by shaping public opinion and even changing it. It can play a vital role in educating Americans about ways to lead longer, healthier, and more productive lives. There are many ways you can work with media to raise awareness about eye health in your community by promoting your eye health programs and events.
As you carry out your own community-based programs, you can develop positive working relationships with print and broadcast professionals and organizations in your community. Use the information in the Media Guide [PDF*] to learn about ways to generate news media coverage for your program.
NEHEP Audio Visuals and Graphics
NEHEP has variety of radio and print public service announcement in English and Spanish that can be customized for your media efforts. Our resources are not copyrighted and may be reproduced without permission.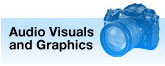 ---