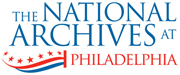 The National Archives at Philadelphia maintains the historically significant records of the Federal Agencies and Courts, in Delaware, Maryland, Pennsylvania, Virginia and West Virginia, dating from 1789 to the present. These historical records, as well as select federal bankruptcy records, are open to the public.
Hours
Due to the move of our holdings to off-site storage, during January and February we will be closed each Monday and Tuesday. We will be open Wednesday through Friday, 8:30 A.M. to 5:00 P.M. and the Second Saturday of each month, 8:00 A.M. to 4:00 P.M.
Also closed Sundays and Federal holidays.
Address and Contact Information
(Center City Philadelphia)
Visit us:
Chestnut Street, between 9th and 10th Sts.
Philadelphia, Pennsylvania
Mail us:
900 Market Street
Philadelphia, PA 19107-4292

Telephone: 215-606-0100
Fax: 215-606-0116
Email: Philadelphia.archives@nara.gov
Facebook: www.facebook.com/NARAatPhiladelphia
Directions
The facility is located on the ground level of the Nix Federal Building. Enter on the Chestnut Street side between 9th and 10th Streets.
Subway:
Market-Frankford Line. Exit at 8th Street.
Bus:
Many SEPTA and NJ Transit buses stop in the vicinity. For routes that stop at the main entrance, SEPTA buses #9, #21, #38, and #42 stop at 9th Street and Chestnut.
Rail:
All SEPTA regional rail lines and the New Jersey PATCO line have stations on Market Street between 8th and 11th.
Transit Contacts:
SEPTA, Southeastern SEPTA, Southeastern Pennsylvania Transportation Authority, 215-580-7800
NJ Transit, New Jersey Transit, 973-762-5100
PATCO Speedline, Delaware River Port Authority of Pennsylvania and New Jersey (DRPA), (856) 772-6900
Car:
From the north: I-95 south to Exit 22 (I-676 West/ Independence Hall/Callowhill St. exit), right on Callowhill St. at bottom of ramp. Left on 6th St. to Walnut St. Right on Walnut to 9th. Right on 9th to Chestnut St.
From the south: I-95 north to Exit 22. Left at 6th St. and proceed as above.
From the east: Benjamin Franklin Bridge to 6th St. Proceed as above.
From the west: I-76 to Exit 344 (I-676 East). I-676 east to 8th St./Chinatown exit. Right on 8th to Walnut. Right on Walnut to 9th. Right on 9th.
There is pay parking in the vicinity.
Access Requirements
Valid official photo identification, such as driver's license or passport, must be presented to the guard at the door for entry. In addition, visitors and their belongings are subject to being scanned and searched. All belongings are to be stored in a free locker near the entrance. No food is allowed, unless attending a scheduled workshop.