SAMHSA News Release
Date: 8/1/2012 11:00 AM
Media Contact: SAMHSA Press Office
Telephone: 240-276-2130
SAMHSA awards up to $12 million in grants to benefit people experiencing homelessness
Note: Corrected Version -- Contains corrected list of awardees
The Substance Abuse and Mental Health Services Administration (SAMHSA) announced today that it is awarding eight new grants totaling up to $12 million over the next three years to public service agencies across the country working to prevent or reduce chronic homelessness in their communities.   

This grant program is designed to reduce the barriers that persons who are chronically homeless with mental and substance use disorders and their families experience while obtaining treatment and stable housing. The resources provided through the grant will support intensive individualized treatment services designed to increase recovery and sustain permanent supportive housing.
"Understanding the roles that mental illness and substance use disorders play in the lives of those at risk for being chronically homeless is key to addressing this public health issue," said SAMHSA Administrator Pamela S. Hyde. "These grants will help communities connect individuals and families with the behavioral health resources they need to sustain long-term recovery in a stable housing environment."
The eight awardees will receive up to approximately $500,000 per year for up to three years.  The actual amount of funding is subject to the availability of funds.
The following is a list of the grant awardees and their first year grant amounts:
Ridgeview Psychiatric Hospital and Center in Oak Ridge, TN                                 $500,000
Luke-Dorf, Inc. in Tigard, OR                                                                                     $500,000
Community Health Clinics, Inc. in Nampa, ID                                                          $491,571
Coalition for the Homeless of Houston/Harrison County in Houston, TX            $499,997
Central City Concern in Portland, OR                                                                       $499,490
Mental Health Association of Southeastern Pennsylvania in Philadelphia, PA      $500,000
Heartland Family Service in Omaha, NE                                                                    $500,000
Riverwood Mental Health Services in Warren, RI                                                     $500,000
---
SAMHSA is a public health agency within the Department of Health and Human Services. Its mission is to reduce the impact of substance abuse and mental illness on America's communities.
---
Last updated: 8/1/2012 11:12 AM
Connect with SAMHSA
Get connected with SAMHSA by following us through these services:
SAMHSA Newsletter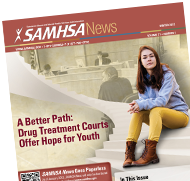 SAMHSA Newsletter