SAMHSA News Release
Date: 10/3/2011 1:30 PM
Media Contact: SAMHSA Press Office
Telephone: 240-276-2130
SAMHSA is awarding $ 2.2 million in grants for Peer-to-Peer Recovery Support Community Services (RSCP)
The Substance Abuse and Mental Health Services Administration (SAMHSA) is announcing today eight grants totaling $2.2 million to continue to support peer-to-peer recovery services.  Peer-to-peer recovery support services are designed and delivered by peers in recovery.  They help prevent relapse and promote sustained recovery for people with alcohol and drug disorders.
"Peer-led programs build on the concept that people who have experienced recovery can be an enormous help to others who are seeking it – leading them to reengagement with the community, resilience, health and hope," said SAMHSA Administrator Pamela S. Hyde, J.D.  "Peer-to-peer services extend the work carried out by behavioral health counselors and other professionals and offers mutual support for developing the skills needed to live healthy and productive lives."  
This grant programs is part of SAMHSA's Recovery Support Strategic Initiative.  This funding allows existing Recovery Support Community Services Program grantees to receive one additional year of funding.  The eight awardees will receive up to $274,000 for one year.  The actual amounts of the grants will depend on the availability of funds and the performance of the grantees

.
The grantees and the amount of their awards are:
| | |
| --- | --- |
| Community Bridges, Inc. Mesa, Ariz. | $273,477 |
| AIDS Service Center of Lower Manhattan, New York, N.Y. | $274,000 |
| Serving Children & Adolescents in Need, Laredo, Texas | $274,000 |
| Exponents, New York, N.Y. | $274,000 |
| RH Home Care, Seattle, Wash. | $274,000 |
| WINR Women In New Recovery, Mesa, Ariz. | $274,000 |
| The Council of SE Pennsylvania, Ind., Doylestown, Pa. | $274,000 |
| SAARA of Virginia, Richmond, Va. | $274,000 |
For additional information about SAMHSA and its programs visit http://www.samhsa.gov/ and http://www.samhsa.gov/grants/
---
SAMHSA is a public health agency within the Department of Health and Human Services. Its mission is to reduce the impact of substance abuse and mental illness on America's communities.
---
Last updated: 10/3/2011 1:25 PM
Connect with SAMHSA
Get connected with SAMHSA by following us through these services:
SAMHSA Newsletter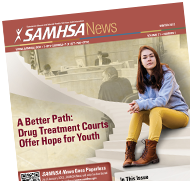 SAMHSA Newsletter