SAMHSA Bulletin
Date: 4/14/2011 2:15 PM
Media Contact: SAMHSA Press Office
Telephone: 240-276-2130
SAMHSA is accepting applications for $19.8 million in cooperative agreement grants to develop and strengthen behavioral health services for persons experiencing chronic homelessness
The Substance Abuse and Mental Health Services Administration (SAMHSA) is accepting grants for programs designed to help persons who experience chronic homelessness to help them achieve sustainable permanent housing and other important services.

The purpose of the Cooperative Agreements to Benefit Homeless Individuals (CAHBI) program is to support the development and/or expansion of local implementation and community infrastructures that integrate treatment and services for mental and substance use disorders, permanent housing, and other critical services for individuals who are chronically homeless. SAMHSA seeks to increase the number of individuals who are chronically homeless placed in permanent housing that supports recovery through comprehensive treatment and recovery services for behavioral health. SAMHSA also seeks to increase capacity for community-based providers to enroll individuals who are chronically homeless in mainstream programs and obtain reimbursement for behavioral health.
The major goal of the Cooperative Agreements to Benefit Homeless Individuals program is to ensure that the most vulnerable individuals who are chronically homeless receive access to sustainable permanent housing, treatment, and recovery supports through mainstream funding sources. To achieve this goal, SAMHSA funds will support three primary types of activities: 1) behavioral health, housing support, and other recovery-oriented services not covered under a state's Medicaid plan; 2) coordination of housing and services for chronically homeless individuals and families at the state and local level which support the implementation and/or enhance the long-term sustainability of integrated community systems that provide permanent housing and supportive services; and 3) efforts to engage and enroll eligible persons who are chronically homeless in Medicaid and other mainstream benefit programs (e.g., SSI/SSDI, TANF, SNAP).
SAMHSA expects that up to $6.58 million will be available for up to 14 grants of up to $500,000 per grant for up to three years. The actual award amount may vary, depending on the availability of funds and the progress achieved by the awardees.
WHO CAN APPLY: Domestic public and private nonprofit entities are eligible to apply. [See Section III-1 of the RFA for complete eligibility information.]
APPLICATION DUE DATE: May 27, 2011. Applications must be received by the due date and time to be considered for review. Please review carefully Section IV-3 of the application announcement for submission requirements.
---
SAMHSA is a public health agency within the Department of Health and Human Services. Its mission is to reduce the impact of substance abuse and mental illness on America's communities.
---
Last updated: 4/14/2011 2:19 PM
Connect with SAMHSA
Get connected with SAMHSA by following us through these services:
SAMHSA Newsletter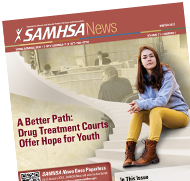 SAMHSA Newsletter