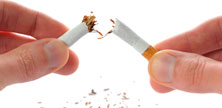 February 12, 2013
The UCSF School of Pharmacy has partnered with Safeway Inc. to help Safeway customers quit smoking, by connecting them with specially trained pharmacists to learn about smoking-cessation programs and other resources.
February 13, 2013
UCSF researchers have discovered a molecular machine that helps protect a cell's genes against invading DNA that contributes to inherited human disease and death.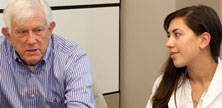 January 28, 2013
A UCSF School of Medicine program is developing a network of advisors, who are related to each other in a meaningful and complementary way, to help students succeed in their coursework and make the right career choices.
UCSF is convening some of the world's foremost thought leaders for a two-day summit to chart the course of precision medicine, an emerging field aimed at delivering care that's preventive, targeted, timely and effective.
Gifts to UCSF will accelerate the pace of scientific discovery and the pursuit of promising clinical applications to benefit patients; recruit world-class researchers; and provide resources to educate health professionals.