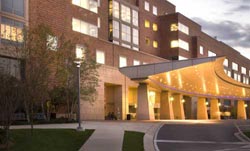 Profiles by Clinical Center Communications, NIH Clinical Center
Welcome to the nation's clinical research hospital.
The NIH Clinical Center: For more than 50 years, the Center's physicians and scientists have been translating laboratory discoveries into better treatments, therapies and interventions to improve the nation's health. Presented here are three patients whose lives have been changed for the better at the Clinical Center.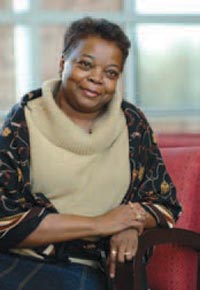 Annie Brown of Washington, DC, has experienced recurrent
pain crises associated with sickle cell disease since childhood. It's a chronic and often fatal form of anemia. In the United States, this inherited disease mainly strikes African Americans. Red blood cells typically are round and smooth. They move easily through blood vessels carrying oxygen to all parts of the body. In sickle cell anemia, the cells are shaped like a sickle—or crescent. Hard and sticky, these cells tend to get stuck in the vessels. When blood flow is blocked, the result is pain. What brought Annie to the Clinical Center was one of the disease's secondary effects: pulmonary hypertension, or high blood pressure in the arteries that supply the lungs. "I used to not be able to walk down steps without stopping," says Annie. "I couldn't do anything." Her study team is giving her blood exchange transfusions, inhalants such as oxygen and nitric oxide, and using vasodilators that open the blood vessels of the arteries. She's doing far better than her childhood doctors predicted. They told her parents that Annie "wouldn't live past age 18 and that she would never have children." Now 56, Annie has exceeded the median life expectancy for people with the disease (42 for men and 48 for women) and has two grown children.
Clenton G. Winford, a Texan, was 25 years old when he first came to the Clinical Center in 1988. Doctors there had just begun to study families diagnosed with von Hippel-Lindau (VHL). Clenton, whose father was diagnosed the year Clenton was born, volunteered for an observational study to help doctors learn what they could by monitoring the progress of the disease in those who have it. The disorder caused retinal tumors, which had resulted in Clenton's blindness. "I was dreadfully ill and had no idea what I should do," Clenton recalls. "I came here purely for research and was diagnosed, but then was offered treatment." As a volunteer patient in a series of research studies, he has had surgical removal of tumors and cysts from his brain, spinal cord, pancreas, adrenal gland, and end lymphatic sac. He also has had countless sessions of imaging scans and other tests to chart the progression of his disease. "Those of us who have been dismissed elsewhere and have been told there is nothing else to be done, find that by coming here, we have one more chance to look at our problems, maybe another roll of the dice — another turn at bat, if you will." Over the years, doctors involved in his care, with the help of volunteer patients with the disorder, have identified three different cancer genes and discovered two new diseases (Hereditary Papillary Renal Carcinoma and Familial Renal Oncocytoma), benefiting thousands of patients worldwide.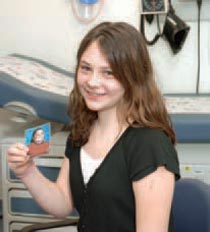 Jane Diepstraten of Stevensville, Montana, first came to the NIH Clinical Center in 2005 to be treated for a rare disease not typically found in children — Cushing's Syndrome. Her adrenal glands produced too much of the hormone cortisol, which led to weight gain and slow growth in height. The first tell-tale sign for the family was Jane's unusual weight gain, chronicled in her yearly school photos. A physician's assistant and a doctor in Montana made the diagnosis. The family chose to come to NIH after an Internet chat room conversation with the mother of another child with Cushing's who was treated at the Clinical Center. Doctors performed delicate surgery to remove Jane's adrenal glands and put her on medication she will have to take for the rest of her life. She comes back once a year for follow-up and screening for the development of any other problems. "I've got my energy back. And, I'm not heavy anymore," Jane says. Now she and her family want to help educate others. Jane did a school science fair project on Cushing's Syndrome. She also wrote a book so that other young patients at the Clinical Center could read about her experience. And she wants to do more. "I want to be a doctor," she says. "I want to be there for the kids going through the same stuff I went through."
Annie, Clenton and Jane, are among the more than 350,000 volunteers from around the nation and the world who have participated in clinical research at the National Institutes of Health Clinical Center in Bethesda, Maryland, since the hospital opened more than 50 years ago. Clinical research is how physician-scientists translate promising discoveries in the laboratory into better ways to treat, prevent, diagnose, and understand human disease.
"Clinical research volunteers come from all walks of life and are truly partners in medical discovery," says Dr. John I. Gallin, Clinical Center Director. At the Clinical Center — the nation's largest hospital devoted to clinical research and the most technologically advanced — this partnership has resulted in a long list of medical milestones, including first cure of a solid tumor with chemotherapy, gene therapy, successful replacement of a mitral valve, and use of AZT to treat AIDS.
There are about 1,500 clinical research studies in progress at the NIH Clinical Center every day. About half the studies are the first tests of new drugs or medical treatments in people. The rest are natural history studies of diseases — including many rare diseases. These long-term studies lead to better understanding of how diseases develop and to improvements in prevention and treatment.
All Clinical Center patients are seen as part of a clinical research study. There's no cost for the care received. For more information — including opportunities for healthy volunteers to participate in clinical research — go online: http://clinicalcenter.nih.gov. Or call 1-866-999-1112 (TTY 1-866-411-1010).
Because lives depend on it
Interested in finding out more about clinical research? A new NIH Web site offers important information to consider, options for participating, and personal stories from research volunteers. Go to: http://clinicalresearch.nih.gov/. There's a link to ClinicalTrials.gov, which provides information about trials across the country, including those at the NIH hospital.