Words and Deeds in American History: Selected Documents Celebrating the Manuscript Division's First 100 Years
---
Ulysses S. Grant's commission as lieutenant general signed by Abraham Lincoln, 10 March 1864.
(Ulysses S. Grant Papers)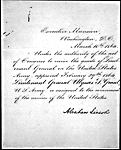 Army officer and United States president Ulysses S. Grant (1822-1885) was at his best in war. Although he was a professional soldier, the United States Army probably was not the career he would have chosen had the decision been his alone. He was temperamentally unsuited to army life in peacetime, which for most soldiers in the 1840s meant long years of duty at a remote outpost on the western frontier. But Grant was also intelligent, single-minded, and almost fearless, attributes that served him well in battle. He entered the Mexican War as a first lieutenant and emerged from that one-sided contest as a captain with two citations for gallantry and one for meritorious conduct.

Grant's achievements during the Civil War were nothing less than spectacular. Having resigned his commission in 1854, partly to avoid court-martial, Grant reentered the army in 1861 as a colonel of the Twenty-first Illinois Volunteer Infantry Regiment. Largely through successive victories by the troops under his command, he rose steadily in rank until he commanded all Union land forces. Shown here is Grant's commission as lieutenant general, which was presented to him by President Abraham Lincoln (1809-1865) on 10 March 1864, shortly after Congress had revived the rank at Lincoln's request. Only two men, George Washington (1732-1799) and Winfield Scott (1786-1866) had held the rank before Grant, and Scott's commission was by brevet. With this appointment, Grant essentially replaced his former nemesis, Gen. Henry W. Halleck (1815-1872), as "General in Chief of the Army" and was subject only to the Lincoln as commander in chief. Halleck was relegated to chief of staff.
John R. Sellers, Manuscript Division
---
For Additional Information
For additional information on the Ulysses S. Grant Papers, you can leave this site and read a summary catalog record for the collection.
Reproduction Number:
A38 (color slide)
Related Terms:
Army officers | Civil War, 1861-1865 | Grant, Ulysses S. (Ulysses Simpson) (1822-1885) | Halleck, H. W. (Henry Wager) (1815-1872) | Lincoln, Abraham (1809-1865) | Military commissions | Presidential appointments | Presidents | Scott, Winfield (1786-1866) | United States Army | Washington, George (1732-1799)
---
Military Affairs | Military Affairs Items List | The Presidency | Presidential Items List | Chronological List | Words and Deeds