Words and Deeds in American History: Selected Documents Celebrating the Manuscript Division's First 100 Years
---
Letter, John F. Kennedy to Clare Boothe Luce thanking the congresswoman for a good luck coin, 29 September [1942].
(Clare Boothe Luce Papers)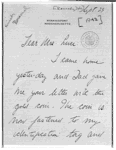 In 1942 a young John F. Kennedy (1917-1963) entered the United States Navy eager to see action in World War II. Clare Boothe Luce (1903-1987), playwright, diplomat, wife of Time-Life, Inc., publisher Henry Robinson Luce (1898-1967), and a Republican member of the House of Representatives from Connecticut, knew the Kennedy family well. She sent the young naval officer a good luck coin that had originally belonged to her mother. In this note Kennedy thanked Luce for her thoughtfulness and promised to clip the coin to his military identification tags.

In summer 1943 Lieutenant Kennedy commanded a PT boat operating against the Japanese near the island of New Georgia in the Pacific. One night Kennedy's PT boat was rammed and cut in two by a Japanese destroyer, but the injured Kennedy and most of his crew survived. A few months later, Kennedy wrote again to Luce, enclosing a gadget, originally intended to be a letter opener, which he had made for her "from a Jap 51 cal. bullet and the steel from a fitting on my boat, part of which drifted onto an island." He told her, "With it goes my sincere thanks for your good-luck piece, which did service above and beyond its routine duties during a rather busy period."1

1. John F. Kennedy to Clare Boothe Luce, [20 October 1943], Container 116, Clare Boothe Luce Papers, Manuscript Division, Library of Congress.
John E. Haynes and Janice E. Ruth, Manuscript Division
---
For Additional Information
For additional information on the Clare Boothe Luce Papers, you can leave this site and read a summary catalog record for the collection.
Reproduction Number:
A60 (color slide; pages 1-4)
Related Terms:
Congress | Diplomats | Dramatists | Japan | Kennedy, John F. (John Fitzgerald) (1917-1963) | Legislators | Luce, Clare Boothe (1903-1987) | Luce, Henry Robinson (1898-1967) | Naval officers | Presidents | United States Navy | Women | World War, 1939-1945
---
Arts and Literature | Arts and Literature Items List | Congress, Law, and Politics | Congress, Law, and Politics Items List | The Presidency | Presidential Items List | Chronological List | Words and Deeds