NEI Summer Intern Program 2009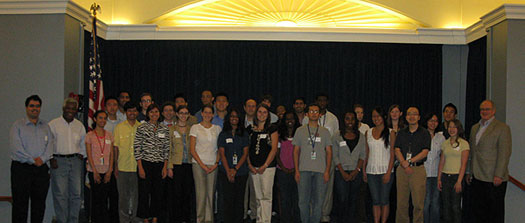 The 2009 Class of NEI Summer Interns: Back row (left to right) Haoxing Chen, Anand Bhatt, Matthew Rapp, Stephen Moster, Waynekid Kam, Steven Walston, David Li, Ryan Riddick, Dr. Bob Nussenblatt (mentor), Nicole Mahdi, Amit Sangave, Uche Obiyor, Marjory Jones, Anna Wisniewska, and Jerry Sun. Front row: Dr. Cesar Perez (SIP Coordinator), Dr. Charles Egwuagu (mentor), Rima Kikani, Awais Zia, Dr. Sarah Sohraby (Deputy Scientific Director), Hillary Godwin, Andrea Elfmont, Lynn Khan, Megan Casady, Abitha William, Reza Hashemipour, Amarachi Eseonu, Merrie Zhang, Dr. Wei Li (mentor), Stephanie Kuo, Abigail Klein, and Dr. Paul Sieving (Institute Director).
[Enlarge Photo]
Thirty-three summer interns and special volunteers came to the NEI during the summer of 2009. These students, from a number of high schools, colleges, and universities around the country, spent eight to twelve weeks working on projects covering a range of topics in vision research.
In addition to their time in the laboratory, students participated in a lunch with NEI Director Paul Sieving, Deputy Scientific Director Sarah Sohraby, and scientists to welcome them to the institute and provide an opportunity to discuss career development and the science occurring at the NEI. Additionally, students participated in a lunch with postdoctoral fellows and graduate students to discuss education and career development and heard lectures by Dr. James Friedman, a postdoctoral fellow in the NEI's Neurobiology-Neurodegeneration, and Repair Laboratory and by Dr. Wadih Zein, a clinical fellow in NEI's Ophthalmic Genetics and Visual Function Branch.
NIH 2009 Summer Poster Day Participants