NEI Summer Intern Program 2011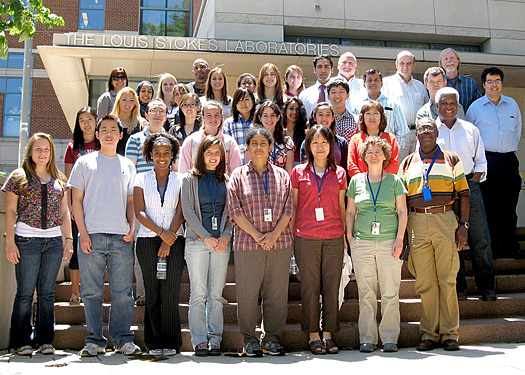 The 2011 Class of NEI Summer Interns and their Mentors: Back row: (left to right) Dr. Sarah Sohraby (Deputy Scientific Director), Sana Idrees, Sara Mattessich, Teresa Longo, Willie Carter III, Candice Craig, Stephane Guerrier, Alecia Gibson, Megan Casady, Anand Bhatt, Dr. Robert Weichbrod, Dr. Prasad Alur, Dr. Yuri Sergeev, Dr. Michael Redmond, Mr. Todd Duncan, Dr. Cesar Perez (SIP Coordinator). Second row: Sharon Ong, Athenais Lapeyre, Dr. Wei Li, Grace Woo, Katherine Pogrebniak, Dayoung Ko, Bianca Martinez, Ragha Suresh, Cydney Nguyen, George Zhang, Dr. Jung Wha Lee, Dr. Charles Egwuagu. Dr. Christian Antolik, Front Row: Katherine Pohida, Bryan Kuo, Mariana Rius, Dr. Mary Mattapallil, Dr. Reiko Horai, Dr. Sharon Milgram (Director, NIH OITE) and Dr. Felix Onojafe.
Thirty-four summer interns and special volunteers joined the NEI in the summer of 2011 to conduct research covering different topics in ophthalmology and vision research. These students, from high schools, colleges, and universities around the country, spent eight to twelve weeks working in various labs across the NIH Campus in Bethesda, MD, and the NIH Twinbrook Campus in Rockville, MD.
NEI also welcomed its first class of Diversity In Vision Research and Ophthalmology (DIVRO) summer interns, a new initiative sponsored by the NEI Office of the Director to increase the number of African-American, Latino, and Native American scientists in vision research by promoting career development opportunities for science students interested in pursuing a career in research.
In addition to their time in the laboratory, students participated in a lunch with NEI Scientific Director Sheldon Miller, Deputy Scientific Director Sarah Sohraby, Dr. Sharon Milgram of the NIH Office of Intramural Training and Education (OITE), and their mentors to welcome them to the institute and provide an opportunity to discuss career development and the science occurring at the NEI. Additionally, students visited the NEI Eye Clinic and heard lectures by Dr. Wilsaan Joiner, a postdoctoral fellow in the NEI's Laboratory of Sensorimotor Research and by Dr. Wendy Smith, a clinical fellow in the Laboratory of Immunology. They also had the opportunity to attend workshops, seminars, and journal clubs hosted by OITE.