Words and Deeds in American History: Selected Documents Celebrating the Manuscript Division's First 100 Years
---
Manuscript map, probably made by a French voyageur, of Indian lands of Wisconsin, when part of Michigan Territory, annotated by Henry Rowe Schoolcraft, ca. 1831.
(Henry Rowe Schoolcraft Papers)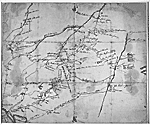 This map of Wisconsin river valleys, probably made by a French voyageur, was carried by Henry Rowe Schoolcraft (1793-1864), the author, ethnologist, explorer, geologist, Indian agent, and superintendent of Indian affairs for Michigan, who annotated it during an expedition he made in the summer of 1831. Schoolcraft was sent by Lewis Cass (1782-1866), governor of Michigan Territory (which then included Wisconsin and part of Minnesota), to take a census of the Chippewa (Ojibwa Indians) and Dakota (Sioux Indians) settlements in the Upper Mississippi River country and try to resolve the hostilities between the two tribes. Schoolcraft added the place names of Indian villages, chiefs' names, and pertinent census figures as well as translations of some French terms and the identification of certain geographical features. The map's reverse orientation, with north at the bottom, may be due to the voyageur's approach into the region from that direction.

Schoolcraft planned further exploration of regions beyond those shown on this map and was especially interested in mapping the sources of the Mississippi River, but he had to abandon this goal because of low water on the upper Mississippi. Exploration was resumed the following year, however, and Schoolcraft succeeded in establishing Itasca Lake as the river's source. He published the results in his Narrative of an Expedition Through the Upper Mississippi to Itasca Lake, The Actual Source of the River; Embracing an Exploratory Trip through the St. Croix and Burntwood (or Broule) Rivers; in 1832 (New York, 1834). An account of the earlier 1831 expedition is included in this volume, and Schoolcraft's original manuscript journal is a part of his papers in the Manuscript Division.
John J. McDonough, Manuscript Division
---
For Additional Information
For additional information on the Henry Rowe Schoolcraft Papers, you can leave this site and read a summary catalog record for the collection.
Reproduction Number:
A120 (color slide); LC-MSS-39115-7 (B&W negative)
Related Terms:
Cass, Lewis (1782-1866) | Dakota Indians | Diplomacy | Ethnologists | Explorers | France | Indians of North America | Itasca Lake | Maps | Michigan | Mississippi River | Ojibwa Indians | Schoolcraft, Henry R. (Henry Rowe) (1793-1864) | Wisconsin
---
Diplomacy and Foreign Policy | Diplomacy and Foreign Policy Items List | Science, Medicine, Exploration, and Invention | Science, Medicine, Exploration, and Invention Items List | Chronological List | Words and Deeds