2012 Monitoring the Future Results
Since 1975 the MTF survey has measured drug, alcohol, and cigarette use and related attitudes among adolescent students nationwide. Survey participants report their drug use behaviors across three time periods: lifetime, past year, and past month. Overall, 45,449 students from 395 public and private schools participated in this year's Monitoring the Future survey. The survey is funded by the NIDA, a component of the National Institutes of Health (NIH), and conducted by the University of Michigan.
Results from the Survey are released each fall. To get the latest information, check the links below. Note: The findings and conclusions in these reports are those of the author(s) and do not necessarily represent the views of the NIH.
News Releases
Monitoring the Future Publications
2011
2010
2009
2008
2007
2006
Monitoring the Future Web Site (University of Michigan)
NIDA Press Conference on Teen Drug Use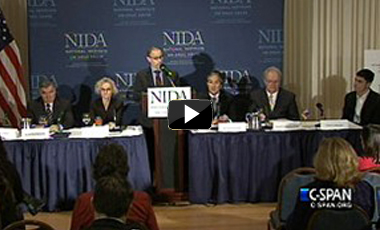 "Survey of Teen Drug Use Released," C-Span, December 19, 2012
Featured Publication

As a result of scientific research, we know that addiction is a disease that affects both brain and behavior.
NIDA's Publication Series