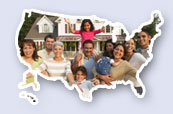 This easy-to-search resource can help you learn about new ways to address eye health issues and replicate eye health-related projects in your community. Visit the Healthy Vision Community Programs Database.
---
The National Eye Health Education Program is coordinated by the National Eye Institute, National Institutes of Health, U.S. Department of Health and Human Services. This administrative document may be reprinted without permission.
---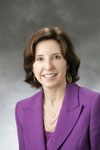 Letter From the Chair of the NEHEP Planning Committee
The mission of the National Eye Institute is to conduct and support research and training, to disseminate health information, and to implement other programs relevant to blinding eye diseases, visual disorders, mechanisms of visual function, preservation of sight, and the special health problems and requirements of the blind. The National Eye Health Education Program (NEHEP) supports this mission through health education, communication, and research, focusing in particular on people at higher risk for eye diseases and those living with low vision. Qualitative research is extremely important in advancing these activities to clarify the eye health information needs of our target audiences and to inform plans to disseminate sight-saving information.
Recently, NEHEP conducted more than 100 focus groups around the country with target audiences for its program areas, among them people with diabetes, people at higher risk for glaucoma, people with self-reported vision loss, older adults, Spanish-speaking Hispanics/Latinos, and people with low literacy. These focus groups allowed us to query individuals about their knowledge of general eye health, comprehensive dilated eye examinations, specific eye diseases and conditions, educational resources needed to increase knowledge of eye health, and preferred methods for obtaining eye health information. Data gathered from these focus groups are being used to enhance NEHEP resources, programs, and outreach. Summaries from these focus groups can be found in the Related Research section of the NEHEP Website.
I also want to call attention to other items of interest in this issue of Outlook. The Healthy Vision Community Awards Spotlight article showcases a local effort by the Blue Ridge Medical Center in Virginia to help individuals with visual impairment live more independently. The project disseminates information about eye health and safety, offers guidance on obtaining eye care, and educates target groups about the effect of pesticides on eyes and vision. Additionally, NEHEP has been training community health workers around the country in using our Diabetes and Healthy Eyes Toolkit, which is designed to build community capacity for addressing eye health. To date, more than 120 community health workers have been trained in English and Spanish, and several more trainings are scheduled throughout the summer, including one with the Indian Health Service Community Health Representative Program.
As health professionals, we have special standing and unique opportunities to enhance public awareness about vision health. We also have the ability to advance shared goals of reducing health disparities and educating people, especially those at higher risk, on the need for comprehensive dilated eye exams and early detection and treatment of eye diseases to prevent vision loss and blindness. I remain convinced that our greatest impact can be achieved through collaborative efforts, so I would encourage you to avail yourselves of opportunities in your communities to pool together and make a difference, whether through screening activities, educational efforts, or other public-health interventions. I also want to continue to encourage you to make use of NEHEP resources in your community and to share with us what works and what aspects of NEHEP materials could be enhanced. Thank you for giving of yourself to benefit those who need our care and support.
Anne Louise Coleman, M.D., Ph.D.
Chair, National Eye Health Education Program Planning Committee
The Fran and Ray Stark Professor of Ophthalmology
Jules Stein Eye Institute
David Geffen School of Medicine at UCLA
and
Professor of Epidemiology
UCLA School of Public Health
---
New Focus Group Data Available From NEHEP
The National Eye Health Education Program (NEHEP) conducted focus groups across the United States to help gain a more in-depth understanding of the public's knowledge about general eye health, eye exams, and specific diseases and conditions. Focus groups were conducted in English and Spanish with participants ranging in age 18 to 70 years old and who were at higher risk for eye disease or were living with low vision. Specific topics addressed included vision loss, vision and aging, diabetes, low literacy, and glaucoma.
These focus groups provided an opportunity for NEHEP to query individuals about their knowledge of specific eye diseases, needs for eye health education and the best communication methods for disseminating eye health information.
Findings from these focus groups are available on the NEHEP Website. Specifically, the following focus group reports are available:
People With Low Literacy
People With Diabetes
Older Adults
People With Self-Reported Vision Loss
People At Risk for Glaucoma
You can view these summaries and other eye health education-related research at http://www.nei.nih.gov/nehep/research/index.asp.
---
NEHEP Training Brings Diabetic Eye Disease Messages Closer to Communities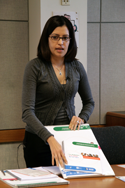 The National Eye Health Education Program (NEHEP) has embarked on a new initiative to train community health workers (CHWs) to deliver educational sessions using its Diabetes and Healthy Eyes Toolkit. Designed specifically for CHWs, the Toolkit is a unique teaching tool for use in community-based diabetes management workshops. It arms CHWs with easy-to-understand, evidence-based resources and information they can use to increase awareness about the link between diabetes and blindness and the role comprehensive dilated eye exams play in preventing vision loss.
NEHEP has conducted training workshops across the country in Spanish and English to increase awareness about diabetic eye disease and introduce CHWs to the Toolkit. During these workshops, CHWs collaboratively learn about the Toolkit, practice using the flipchart, and identify ways to distribute diabetic eye disease information in their communities. Small group activities also create a lively atmosphere to learn about diabetes, diabetic eye disease, and the importance of comprehensive dilated eye exams at least once a year for people with diabetes. Each participant receives a copy of the Toolkit and other eye health education materials they can incorporate into their diabetes management programs.
Pre- and posttests and evaluation forms help NEHEP ensure that CHWs are learning more about diabetes and its eye complications and that the workshops are meeting their training needs. Results and feedback from the CHWs show that the Toolkit fills a gap in community-based diabetes education efforts, allowing many of them to address diabetic eye disease for the first time.
Since October 2011, more than 120 CHWs have been trained in California, Maryland, Oregon, Texas, and Washington. Summer workshops are scheduled for CHWs working with the Indian Health Service Community Health Representative program, the Mexican Consulate and the National Rural Health Association. NEHEP is actively considering strategies to continue to extend the reach of this training effort.
The Diabetes and Healthy Eyes Toolkit was featured in the April/June 2012 issue of Family & Community Health: The Journal of Health Promotion and Maintenance. This peer-reviewed journal article provides an overview on the impact of diabetes in Hispanic/Latino communities and the role CHWs have played in addressing health disparities. The authors trace the development of the Toolkit, highlighting NEHEP's collaboration with the Midwest Latino Health Research Training and Policy Center at the University of Illinois, National Alliance for Hispanic Health, and National Diabetes Education Program. The Toolkit content and results of dissemination and promotional efforts are also discussed. To access the article, visit: http://journals.lww.com/familyandcommunityhealth/Fulltext/2012
/04000/Diabetes_and_Healthy_Eyes_Toolkit__A_Community.4.aspx (subscription required).
Order copies of the Diabetes and Healthy Eyes Toolkit or download materials at http://www.nei.nih.gov/diabetestoolkit.
---
NEI Offers New Knowledgebase
The National Eye Institute (NEI) recently launched an online knowledgebase, NEI Frequently Asked Questions, to provide easy access to information on vision research, eye health, and eye diseases and conditions. This interactive knowledge management system allows visitors to quickly find answers, links to web documents, and contact information for organizations offering additional eye health resources and information. The knowledgebase contains nearly 300 entries, and it will continue to grow as answers to new questions are developed.
Before the launch, the knowledgebase had been an internal tool that NEI information specialists used to answer queries from the public. Now, everyone has direct access to this information.
Visit the knowledgebase at http://www.nei.nih.gov/answers.
---
The American Foundation for the Blind Unveils Enhanced Website Redesign
The American Foundation for the Blind (AFB), a national nonprofit that expands possibilities for people with vision loss, has launched a redesign of its main website, http://www.afb.org. The new site offers a more interactive, engaging experience, making it easier for visitors to locate information on the topics that interest them.
Like the former AFB website, the new one is fully accessible to people with vision loss. Visitors can change colors, font, and font size to increase content readability.
On the new site, visitors will find the following:
A new information architecture that improves navigability via a cleaner design.
Slideshows that highlight news, events, and resources on living with vision loss.
New and enhanced ways to engage with AFB through public policy campaigns and social networking channels.
The ability to easily share content by e-mail, Facebook, or Twitter.
In-depth descriptions of more than 1,600 agencies and organizations that offer services to people with vision loss, available for free for the first time through the AFB Directory of Services online.
For more information, contact Amanda Kolling at 304–710–3031 or akolling@afb.net.
---
PBA Diabetic Eye Disease Educator Program Available Online
Prevent Blindness America (PBA) is pleased to announce the availability of its online Diabetic Eye Disease Educator Program. Health professionals and outreach personnel can learn about the visual system, as well as the signs, symptoms, and complications of diabetic eye disease. The program is designed to equip health educators with messages about diabetic eye disease and strategies for maintaining healthy vision that can be delivered to people with diabetes and those at higher risk for developing diabetes. These messages can be disseminated through health outreach programs at community health centers, health departments, medical practices, and civic and faith-based organizations.
The online course, participant guide, and patient education fact sheets are available in English and Spanish. Please visit http://diabetes.preventblindness.org to learn more or call PBA at 1–800–331–2020 FREE 1–800–331–2020.
For additional resources on diabetic eye disease and ideas on how to use these resources in your community, visit the National Eye Health Education Program (NEHEP) Diabetic Eye Disease site at www.nei.nih.gov/nehep/programs/diabeticeyedisease/index.asp.
---
National Institutes of Health SeniorHealth.gov Gets New Design
The National Institute on Aging (NIA) and the National Library of Medicine at the National Institutes of Health (NIH) have redesigned the NIHSeniorHealth web page to feature more menu choices, longer pages, and a new search feature allowing for quick and easy access to health and wellness information for older adults.
The newly designed site contains nearly 50 health topics, five of which are eye-related; more than 150 health videos; frequently asked questions (FAQs); easy quizzes; and more. NIHSeniorHealth.gov should be a first stop for anyone seeking fast, reliable, up-to-date information about older adults and health.
Check out the new site at http://www.NIHSeniorHealth.gov and use the "Contact Us" link to let NIA know what you think about the new design.
---
American Academy of Ophthalmology Promotes Sun Safety for Eyes
Most people know that sunscreen is critical to protect their skin, but too often forget the danger ultraviolet (UV) rays pose to vision. The American Academy of Ophthalmology (AAO) wants people to know that the sun can damage the surface tissues, cornea, and lens of the eye and may increase the risk of developing cataract and age-related macular degeneration.
Through its EyeSmart® UV Safety campaign, AAO is providing the public with tips to keep their eyes safe. For example, AAO is spreading the message that wearing sunglasses makes pool time safer. Wraparound sunglasses that block 100 percent of UV–A and UV–B rays offer the best eye protection by lessening exposure to harmful rays which can increase risk for some eye diseases. Even on a cloudy day, UV rays can cause harm to the eyes, so it's important to protect those peepers!
Learn more about UV eye safety and tips to protect the eyes from the sun at http://www.geteyesmart.org/eyesmart/living/sun.cfm and share this information in your community.
For more information, contact Christine Douglass at cdouglass@aao.org.
---
HVCA Spotlight: Blue Ridge Medical Center
Blue Ridge Medical Center, a recipient of a 2011 Healthy Vision Community Award (HVCA) from the National Eye Institute, has used award funds to stimulate collaborative initiatives that address eye health issues in its community through its Rural Health Outreach Program (RHOP).
Blue Ridge Medical Center, located in Colleen, VA, provides health services and resources to uninsured and low-income population groups in Nelson County and surrounding areas. The RHOP Wellness Passport Program provides health services, coaching, and assistance to people who are at 200 percent below the poverty level and do not have health insurance.
The primary goals of Blue Ridge's program are to disseminate materials about eye health and safety, provide information about obtaining eye care, and increase awareness of eye health and proper eye safety practices. Additionally, the program aims to communicate the effect of pesticides on eyes and vision; educate target groups on minimizing exposure to sun and ultraviolet rays; and encourage the use of eye protection, especially on farms and in migrant camps.
Information has been disseminated at health depots and fairs, and community days like Hispanic Community Day. RHOP also worked with the Blue Ridge Medical Pharmacy; Nelson Eye Center; Department of Social Services; Department of Health; Lions Club; Piedmont Baptist Association; Nelson County School Nursing Program; and other agencies, civic groups, and businesses to disseminate eye health information.
One hundred and thirty one Wellness Passport exams were conducted and 52 individuals were referred to specialists or provided educational resources during annual physicals. At the migrant camps visited, RHOP staff conducted 31 comprehensive eye exams, diagnosed five patients with pterygium or surfer's eye (a benign growth on the front of the eye) and referred two individuals to a doctor for further treatment. Additionally, more than 2000 pieces of educational materials have been distributed.
For more information on the Blue Ridge RHOP, contact Greg Tyree, manager, at 434–263–4858 or visit http://www.brmedical.org.
To learn more about other community-based eye health education activities or to submit a project you have in your community, visit the Healthy Vision Community Programs Database.
---
On the Road With NEHEP
The National Eye Health Education Program (NEHEP) regularly attends and exhibits at national meetings across the country. Exhibits and presentations provide an opportunity to share information and publications, promote NEHEP messages and resources, and strengthen links with Partnership and other intermediary organizations. Upcoming NEHEP exhibits are listed below. If you plan to be there, please stop by and say "hello"!
National Council of La Raza
NCLR Annual Conference
Booth #1202
Las Vegas, NV
July 7–10, 2012
Indian Health Service Community Health Representative National Education Training
Minneapolis, MN
August 27–30, 2012
---
Let Us Know What You Think About Outlook
The National Eye Health Education Program (NEHEP) wants to know what you think about Outlook. Let us know what you find beneficial, ideas for content you would like to see in upcoming issues, or suggestions for improvement. We're always interested in hearing about your eye health education efforts and especially how you have used NEHEP resources.
Please contact us. We look forward to hearing from you!
---