Symposium on Stem Cell Therapies: From Degeneration to Regeneration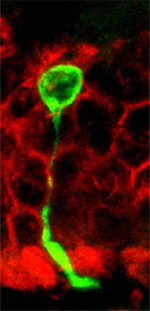 About this image
.*
A series of symposia are being organized to commemorate the 40th anniversary of the National Eye Institute and to showcase the impact and interface of vision with diverse aspects of biology and medicine. The goal of these symposia is to foster collaborative interactions with colleagues within and outside of the NIH research community and to promote new initiatives for understanding the biology of vision and blindness.
The first clinical trial for a therapy generated by human embryonic stem cells was approved last year by the FDA for spinal cord injury. That event heralded significant advances that are promising for further stem cell therapies over the coming decade. These advances will provide new paradigms for regenerative medicine and provide significant opportunities for the repair and regeneration of tissues that have been damaged by disease and injury. Many applications are coming forward using ESCs or induced pluripotent stem cells (iPSCs) that can differentiate into b islet cells, cardiomyocytes, neural stem cells, glial and neuronal lineages - including the retinal pigment epithelium and many other cell types. Significant pre-clinical advances have been made with ESCs and iPSCs in a variety of diseases including diabetes, myocardial infarction, Parkinson's disease, and liver disease. Leading opportunities for therapeutic intervention are in neural repair and for retinal vision loss due to macular degeneration.
Tuesday, January 12, 2010
8:00 AM - 2:00 PM
National Institutes of Health Lister Hill Auditorium (Building 38A)
View information about the speakers
For more information on the program, please contact Dr. Sarah Sohraby at sohrabys@nei.nih.gov
Information on visiting the NIH Campus
---
* About this Image - This image shows a transplanted human ES cell in the mouse retina. Courtesy of Thomas Reh, University of Washington.