This easy-to-search resource can help you learn about new ways to address eye health issues and replicate eye health-related projects in your community. Visit the Healthy Vision Community Programs Database at
www.nei.nih.gov/hvcpdatabase.
---
The National Eye Health Education Program is coordinated by the National Eye Institute, National Institutes of Health, U.S. Department of Health and Human Services. This administrative document may be reprinted without permission.
---
Letter From the Chair of the NEHEP Planning Committee
As I offer greetings for the New Year, I want to call attention to some of the ways that the National Eye Health Education Program (NEHEP) is working to make a difference in eye health.
I also want to call attention to the persistent gaps in knowledge about eye disease. This is unacceptable and I know we can do better as a nation. We need to figure out ways to use NEHEP more effectively as a leadership engine and we need your help in the process.
NEHEP exists to ensure that vision is a health priority. The current NEHEP Five-Year Agenda covers the period from 2006 through 2011. It calls for efforts to implement effective education programs across the spectrum of eye diseases and the populations most affected by them, to sustain partnerships with other organizations seeking to promote eye health, to provide leadership to government agencies and private-sector organizations on eye health-related issues, and to evaluate programs with a view toward promoting effective eye health interventions. NEHEP activities are grouped into five program areas: Diabetic Eye Disease, Glaucoma, Low Vision, "¡Ojo con su visión!" (or "Watch out for your vision!", a Spanish-language program), and the newest program, Vision and Aging. We are interested in working with your organizations to enhance these programs and continue our outreach to higher risk audiences.
One newly available educational resource in the first program area is the Diabetes and Healthy Eyes Toolkit, released last November to assist community health workers in teaching Hispanics/Latinos with diabetes about eye health. Other strategies used in the past year to reach people with diabetes included a print public service advertisement campaign that targeted African Americans, Hispanics/Latinos, and older adults with diabetes, as well as the development of new diabetic eye disease e-cards.
The new NEHEP program area on Vision and Aging focuses on the eye health needs of adults age 50 and older and stresses the importance of comprehensive dilated eye exams. As part of a broader framework known as See Well for a Lifetime: An Educational Series on Vision and Aging, NEHEP developed the See Well for a Lifetime Toolkit for people who work with older adults, emphasizing that vision can change with age, but that vision loss or going blind is not a normal part of aging and there are many things people can do to protect their sight. The educational modules in this toolkit cover vision changes commonly associated with aging, offer detailed information about age-related eye diseases, and discuss low vision and the use of vision rehabilitation services.
January has been designated Glaucoma Awareness Month, and NEHEP provides a range of glaucoma educational materials, underscoring the importance of early detection and treatment of glaucoma. Research shows that beyond the general risk for people over age 60, specific subgroups at higher risk of developing glaucoma include African Americans over age 40, Mexican Americans over age 60, and individuals with a family history of the disease. The Survey of Public Knowledge, Attitudes, and Practices (KAP) Related to Eye Health and Disease, conducted by the National Eye Institute (NEI) and the Lions Clubs International Foundation, found that only 8 percent of U.S. adults know there are no early warning symptoms for the disease.
The latter finding reinforces the broader conclusion that we need to continue our efforts to raise awareness and educate the public. As I start my third year as NEHEP Planning Committee Chair, I am keenly aware of the importance of working collaboratively, and that there is a need to do more. I am concerned that our investment of resources have the greatest impact possible. NEHEP has a wide array of materials available, and I am hopeful that the effect of such materials can be magnified through a more collective effort. We hope you will
contact us
with insights into how you are advancing eye health, how you have put existing NEHEP resources to use, and ideas about how we can fulfill our leadership mission and work together to advance shared goals. Meanwhile, I offer my best wishes for a happy and healthy New Year.
Anne Louise Coleman, M.D., Ph.D.
Chair, National Eye Health Education Program Planning Committee
Frances and Ray Stark Professor of Ophthalmology
Jules Stein Eye Institute
David Geffen School of Medicine at UCLA
and
Professor of Epidemiology
UCLA School of Public Health
---
January Is Glaucoma Awareness Month…
| | |
| --- | --- |
| | |
| Normal Vision | Vision with Glaucoma |
…help raise awareness in your community about this disease that has no warning signs. If left untreated, glaucoma can result in permanent vision loss or even blindness. Fortunately, a comprehensive dilated eye exam can detect glaucoma, and early detection may minimize vision loss. People at higher risk for glaucoma include African Americans over age 40; those over age 60, especially Mexican Americans; and those with a family history of the disease. These populations should have a dilated eye exam every one to two years.
You can help raise public awareness about the need for comprehensive dilated eye exams for people with glaucoma by distributing information to your family, friends, colleagues, and mailing lists. NEI has a variety of materials in English and Spanish, including public service announcements, e-cards, brochures, teaching resources for health professionals, and more. The following are a few examples of materials and ideas about how to use them.
Glaucoma E-cards

What You Can Do: Spread the word about the importance of dilated eye exams by sending e–cards. Choose from a variety of e–cards—they can be personalized.
How You Can Do It: E-mail the cards to your own mailing list, including friends, family, and members of your organization. Place the glaucoma e–card description and link on websites and in newsletters so others can send them.
Glaucoma Education Website

What You Can Do: Share this consumer-friendly site with others so they can learn about early detection, treatment, and follow-up care for glaucoma.
How You Can Do It: Post the link on your intranet or website. Include information about the Glaucoma Education Website in e-mails and newsletters to your constituents.
What You Can Do: Give people a chance to test their glaucoma knowledge. Help people learn more about the disease and how to protect their vision by using this short true-false quiz.
How You Can Do It: Download copies and approach local eye care providers; physicians' offices; and places with community bulletin boards like grocery stores, community centers, and public libraries. Leave them a copy and ask them to reproduce several copies to make available to those they serve.
Medicare Benefit Card

What You Can Do: Help others learn about the glaucoma and diabetic eye disease benefit under Medicare by using this card which contains information about benefit eligibility and where to go to learn more.
How You Can Do It: Distribute at health fairs, clinics, and other community locations. Place cards in your workplace cafeteria or lunch room with a note to "Take one for someone you care about."
Don't Lose Sight of Glaucoma Brochure
What You Can Do: Use this brochure to provide information to people who are at higher risk for glaucoma about what they can do to prevent vision loss.
How You Can Do It: Distribute the brochure in waiting rooms, senior centers, local libraries or health fairs in your community.
Radio and Print Public Service Announcements
What You Can Do: Enlist the mass media. NEHEP offers a variety of downloadable audio PSAs and scripts about the importance of dilated eye exams. Also available, in both English and Spanish, are a variety of print public service announcements (PSAs) targeted to people at higher risk for glaucoma to remind them it has no early warning signs.
How You Can Do It: Use our ready-made scripts to record PSAs that your organization can play on your hold line. Download an audio PSA and distribute it to local radio stations. Use one of the PSAs in your newsletters or send it to local newspapers.
Visit the NEHEP Glaucoma Program page to find these materials and to learn about additional community activities you can do to increase awareness about glaucoma.
---
Considerations for Reaching Older Adults With Eye Health Information
Outreach programs and materials targeting older adults should be sensitive to the unique issues they often face, such as worries about the loss of independence, unwillingness to seek medical attention, and fears of the medical system. Older people may unwittingly assume the stereotypes of old age. Expectations regarding health diminish with age, sometimes realistically, but often not. Older people with treatable symptoms tend to dismiss their problems as an inevitable part of aging. As a result, they may not seek medical care and may suffer needless discomfort and disability. They may worry that the physician will recommend surgery, suggest costly diagnostic tests or medications, or tell them to stop driving.
There is a pervasive fear of blindness among older adults and limited knowledge about age-related vision loss.1 They may not know the importance of having regular comprehensive dilated eye exams to help detect potentially blinding eye diseases in their early, treatable stages. Patient referrals for eye health care from physicians or healthcare professionals are especially important because many older adults are not aware of eye exam guidelines. The involvement of family members in disseminating health information and making medical decisions is also important for older adults. Intergenerational programs that allow the participation of family members can help to provide support and address the issue of transportation that can be a significant barrier to the receipt of preventive services and health care. Additionally, educating community members and establishing relationships with community leaders have been found to be effective ways to reach this population.
The eye care professional's office is one venue to consider for distributing eye health information. It is important to remember, however, that many older adults are not already part of the eye healthcare system. Other channels of communication to think about using to reach this population include healthcare settings; pharmacies; the clergy; nonprofit vision organizations; senior centers; public libraries; television; state and local governments; and groups, clubs, and events that focus activities toward the older adult audience.
Although the Internet is increasingly being used to gain knowledge about health-related topics, many older adults are not computer literate and often feel they have "missed the computer age."2 However, with the aging of the baby boomer generation, the Internet should not be dismissed as an effective tool to reach older persons, and it will become increasingly important as a source of health information. Aging baby boomers bring different expectations, experiences, and preferences to aging than did previous generations. Their needs vary from their parents' generation. People between the ages of 50 and 64, for example, are more likely than are those over the age of 65 to want to participate actively in healthcare treatments and decisions, use complementary or alternative medicine, and search the Internet for health information. A May 2010 Pew Internet Survey3 reports the following use of the Internet among several adult age groups:
Ages 30–49: 87 percent
Ages 50–64: 78 percent
Ages 65 and older: 42 percent
Materials and programs for older adults should be designed to address health literacy levels, cognitive abilities, and vision problems that may affect this population. For guidelines on making websites user-friendly for older adults, visit http://www.nlm.nih.gov/pubs/staffpubs/od/ocpl/agingchecklist.html. Guidance for developing printed health materials that appeal to older adults can be found at http://www.nia.nih.gov/health/publication/making-your-printed-health-materials-senior-friendly. The U.S. Department of Health and Human Services also offers the Quick Guide to Older Adults and Health Literacy, which also provides suggestions and strategies for communicating with older adults. This guide can be accessed at http://www.health.gov/communication/literacy/olderadults/literacy.htm.
The National Eye Health Education Program also offers the See Well for a Lifetime Toolkit, which can be used by health professionals in community settings to educate older adults about eye health. Visit http://www.nei.nih.gov/SeeWellToolkit to learn more.
---
NEHEP Launches New Program on Vision and Aging
The National Eye Health Education Program (NEHEP) is pleased to announce its fifth program area, Vision and Aging. As people age, they are at higher risk for eye diseases and conditions, including age-related macular degeneration, glaucoma, diabetic eye disease, cataract, and dry eye. This new program emphasizes the importance of comprehensive dilated eye examinations for everyone age 50 and older. Program messages stress that eye diseases often have no early warning signs or symptoms and that early detection and treatment may prevent or delay vision loss and blindness.
The NEHEP Vision and Aging Program addresses the eye health education needs of older adults by providing people who work with them with evidence-based, easy-to-understand tools and resources that can be used in community settings to educate adults about eye health and maintaining healthy vision as they age. See Well for a Lifetime: An Educational Series on Vision and Aging is the core educational tool of this new program.
The See Well for a Lifetime Toolkit is an online resource that contains three modules that can be used individually or as a series to promote the need for regular dilated eye exams for people over age 50. Each module, Making Vision a Health Priority, Age-Related Eye Diseases and Conditions, and Low Vision, contains a PowerPoint presentation, a speaker's guide with detailed talking points to give a presentation, participant handouts, promotional announcements, and participant evaluation forms. Many of the materials can be customized to include an organization logo; contact information; or the date, time, and location for a presentation.
The See Well for a Lifetime Toolkit was pilot tested in senior centers and community settings nationwide with the help of the National Council on Aging and the Healthy Aging Interest Group of the Society for Public Health Education. To learn more about the new Vision and Aging Program and to download the See Well for a Lifetime Toolkit, visit http://www.nei.nih.gov/nehep/programs/visionandaging.
---
NEHEP Congratulates Past Planning Committee Members
| | |
| --- | --- |
| | |
| Dr. Straatsma | Dr. Shipp |
In the fall of 2010, two past members of the National Eye Health Education Program (NEHEP) Planning Committee—Dr. Bradley R. Straatsma and Dr. Melvin Shipp—received honors. We would like to recognize and congratulate them for these great achievements.
At the American Academy of Ophthalmology (AAO) meeting in Chicago, IL, Dr. Bradley R. Straatsma received the 2010 Laureate Recognition Award, the Academy's highest award. He was recognized for his distinguished career and contributions to ophthalmology. Dr. Straatsma served as the first chairperson of the NEHEP Planning Committee that was charged with shaping NEHEP, the first federal eye health education program. Under his leadership, NEHEP began the development and implementation of public and professional education programs on diabetic eye disease and glaucoma. Dr. Straatsma is professor of ophthalmology emeri­tus at the Jules Stein Eye Institute at the University of California, Los Angeles.
In November, at the American Public Health Association (APHA) meeting in Denver, CO, Dr. Melvin Shipp was named President-Elect. This is the first time in the history of APHA that an eye care professional has been elected as president. Dr. Shipp served on the first NEHEP Planning Committee and was instrumental in guiding the development of this public health education program on blindness prevention. He has been an active APHA member for more than 25 years and is now the Dean of The Ohio State University College of Optometry.
---
CMS Toolkit Helps Advocates Create Effective Education Materials
In fall 2010, the Centers for Medicare & Medicaid Services (CMS) released the Toolkit for Making Written Material Clear and Effective. The purpose of this 11-part health literacy resource is to support the creation of written material in printed formats that are easier for people to read, understand, and use. Originally released in 1999 under the title, Writing and Designing Print Materials for Beneficiaries: A Guide for State Medicaid Agencies, this updated and expanded version describes how to develop effective outreach products for all CMS populations. While the guidelines and advice offered in the Toolkit are geared to the needs of CMS audiences, most reflect general principles for effective communication of information that can be applied to any audience.
The Toolkit includes detailed guidelines for writing, graphic design, and culturally appropriate translation from English into other languages. It also covers methods of testing written material with readers and special topics in writing and design. These special topics include cautions about using readability formulas to assess material, things to know if your material is for older adults, a comparison of written material on websites versus written material in printed formats, and an extended "before and after" example of using the Toolkit guidelines to revise a brochure.
You will find the Toolkit on the CMS Website as a sequence of downloads that you may view, save, or print from your personal computer. The direct link to the Toolkit is http://www.cms.gov/WrittenMaterialsToolkit.
If you're planning to use the Toolkit in your work, CMS encourages you to provide them with your feedback. To do this, contact David Boyd at david.boyd@cms.hhs.gov with your comments and experiences.
---
Three Silent Killers Program: Focus on Glaucoma
The number of glaucoma cases has increased in recent years, making it more important to inform the public of this potentially blinding disease. January is Glaucoma Awareness Month and the National Optometric Association (NOA) is dedicated to reducing the incidence of visual impairment from this condition. The NOA Three Silent Killers Program is designed to increase awareness and promote the prevention and control of glaucoma as well as diabetic and hypertensive eye disease within minority communities, particularly the African American community.
Glaucoma currently affects more than 4 million Americans, with as many as half being undiagnosed, according to the Glaucoma Research Foundation.1 Although everyone is at risk for glaucoma, African Americans are almost three times more likely to develop visual impairment due to glaucoma than other ethnic groups.2 The NOA Three Silent Killers program pilot study also confirmed that African Americans have a higher prevalence of glaucoma than any other race, especially in those over the age of 40.3
Various factors, including the changing demographic makeup of our population, have led to an increase in cases of glaucoma. Early detection and prompt treatment are essential to prevent blindness from glaucoma. The NOA encourages everyone to get a yearly comprehensive dilated eye exam, especially minority patients, elderly patients, and those with a family history of glaucoma.
The NOA is committed to educating those populations who are at higher risk of developing sight-threatening conditions such as glaucoma. Specifically, the NOA has targeted the urban, rural, and minority populations with poor access to eye health care. The Three Silent Killers program is a perfect example of the NOA's efforts to better educate the community about glaucoma.
If you would like to learn more about the Three Silent Killers Program or request copies of NOA's informative brochure, contact LaSheta David, O.D., NOA President, at Dr.lpdavid@invisionfamilyeyecare.com. You can visit the NOA website at http://www.natoptassoc.org.
References
| | |
| --- | --- |
| 1 | Glaucoma Research Foundation. (2009). Glaucoma facts and stats. Retrieved from http://www.glaucoma.org/learn/glaucoma_facts.html |
| 2 | Friedman, D. S., Wolfs, R. C., O'Colmain, B. J., Klein, B. E., Taylor, H. R., West, S., . . . Kempen, J.; Eye Diseases Prevalence Research Group. (2004). Prevalence of open-angle glaucoma among adults in the United States. Archives of Ophthalmology, 122, 532–538. |
| 3 | Tielsch, J. M., Sommer, A., Katz, J., Royall, R. M., Quigley, H. A., & Javitt, J. (1991). Racial variations in the prevalence of primary open-angle glaucoma. The Baltimore Eye Survey. JAMA, 266, 369–374. |
---
JCAHPO® Launches New Online EHR Course Series
The Joint Commission on Allied Health Personnel in Ophthalmology® (JCAHPO®) is introducing an entire series of electronic health record (EHR) courses on the E-learning site, http://www.actioned.org. The first of several educational modules targeting EHRs will launch in January/February 2011. The series is available through an unrestricted educational grant from Compulink Business Systems, Inc.
JCAHPO President William H. Ehlers, M.D., says the goal of the series is to provide ophthalmic medical personnel (OMP) with education, training, and awareness of EHR transitioning challenges to improve their performance while increasing Medicare/Medicaid compliance.
"Educating OMP is the most important first step for employers. As the first contact for patients, OMP serve as the lead users of these technologies. Developing OMP skills so they are comfortable, knowledgeable, and prepared to utilize EHR software maximizes productivity and effectiveness."
The courses are available exclusively on http://www.actioned.org. For more information, e-mail jcahpo@jcahpo.org or call 1–800–284–3937.
---
Healthy Eyes Healthy People® Launch Kit Available for Community Projects
The new Healthy Eyes Healthy People® (HEHP®) Launch Kit, introduced in September 2010 by the American Optometric Association (AOA), is designed to help ensure the success of eye and vision outreach programs through effective communications. Using the HEHP Launch Kit, project organizers can develop comprehensive strategies to raise awareness of outreach efforts among target populations, attract businesses and organizations that may be interested in cosponsoring such efforts, and follow up with effective reporting on project results.
Complete with a variety of planning and implementing worksheets, the HEHP Launch Kit provides an orderly process that organizers can use to formulate key messages and disseminate essential information regarding their projects. Using the list of national organizations that is included in the kit, organizers can attract local project cosponsors that might be interested in partnering on HEHP programs. A template for an introductory letter and telephone script for follow-up calls is provided, along with an outline from which to develop presentations to interested organizations. A sample partnership agreement is also included.
The kit includes an extensive guide for working with media that organizers can use to publicize their projects. Fact sheets, press releases, and broadcast public service announcements, as well as reproducible logos for print advertising, program materials, and web banners are also provided. A follow-up press release to inform the local community of the completion and results of the project is also available in the kit. In addition, organizers will find certificates of completion for participating practitioners and sponsors, as well as "thank you" cards for project partners.
For more information on AOA's HEHP program and to learn about getting a copy of the kit, visit http://www.aoa.org/hehp or contact Uzma Zumbrink, D.H.Sc., M.P.H., at UAZumbrink@aoa.org or 314–983–4146.
---
Prevent Blindness America Launches Diabetic Eye Disease Educator Program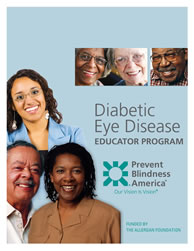 Information provided in the most recent diabetes fact sheet available from the Centers for Disease Control and Prevention estimates that 23.6 million people, or 7.8 percent of the population in the United States, have some form of diabetes and that more than 57 million Americans may have prediabetes. It also identifies diabetes as the leading cause of new cases of blindness in adults 20–74 years of age.1
With the numbers of people with diabetes increasing, the number of those at risk for vision loss and blindness due to diabetic retinopathy and other related eye diseases will continue to soar. According to the study "Economic Impact of Vision Problems: The Toll of Major Adult Eye Disorders, Visual Impairment, and Blindness on the U.S. Economy" by Prevent Blindness America, diabetic retinopathy costs $490 million annually in direct costs for outpatient, inpatient, and prescription drug services.2
To help combat these issues, Prevent Blindness America, the Nation's oldest eye health and safety organization, is pleased to announce the launch of the new "Prevent Blindness America Diabetic Eye Disease Educator Program." The new program, sponsored by the Allergan Foundation, is a comprehensive eye health education program. It is designed to teach outreach personnel and allied health professionals about the visual system and the signs, symptoms, and complications of the secondary diseases of diabetes—diabetic retinopathy and glaucoma.
The purpose of the program is to deliver patient education messages about diabetic eye disease through health outreach programs at community health centers, health departments, and civic and faith-based organizations. The program targets those populations at highest risk for developing diabetes: African Americans and Hispanics/Latinos. The program elements are designed to do the following:
Train personnel with regular access to populations who have the highest risk of developing diabetes to effectively deliver patient education about diabetic retinopathy and glaucoma, as well as about methods for prevention and vision preservation.
Provide certified diabetes educators with an opportunity to become certified in diabetic eye disease education for the purpose of conducting group and one-on-one patient/client education at their facilities.
The program was designed and approved by an expert panel of leading ophthalmologists, optometrists, and scientific and public health professionals. Prevent Blindness America is currently working with the American Association of Diabetes Educators to expand and accredit the program. Next steps for the program include the development of a continuing education program for nurses, diabetes educators, and pharmacists, and translation of the materials into Spanish.
For more information on the Prevent Blindness America Diabetic Eye Disease Educator Program, call Prevent Blindness America at 1–800–331–2020 or visit http://preventblindness.org.
---
Healthy Vision Community Awards Spotlight: Philadelphia Corporation for Aging
The goal of the Philadelphia Corporation for Aging (PCA) Eyes to the Future project is to increase eye health awareness—with specific emphasis on glaucoma and cataract—among Philadelphia's low-income older adults. This 2010 Healthy Vision Community Awards (HVCA) project was created under the PCA PrimeTime Health Promotion Program, which provides information; education; skill building; screenings; and support to individuals, groups, and communities in Philadelphia. Visual impairment due to glaucoma and cataract falls into the area of chronic disabling conditions, which is one of the seven PrimeTime Health Program priority areas.
From January through December 2010, the Eyes to the Future project provided eye health information, educational tools, and resources to increase an individual's knowledge about eye health, and offer opportunities for vision screenings and referrals to complementary health and social services. Two-hour interactive educational workshops were offered at each of five senior community centers during May and June 2010. Using the Health Belief Model as a foundation for its approach, the Eyes to the Future project aimed to lead session participants through the stages of perceived susceptibility, perceived severity, perceived benefits, perceived barriers, cues to action, and self-efficacy as they relate to eye health. Eye health materials were distributed to 250 people. Of these, 190 people attended the workshops.
During the first hour of each workshop, an optometrist presented information about visual impairment due to glaucoma and cataract and how the diseases affect older adults. The second hour of each workshop was led by an occupational therapist who presented participants with information regarding safety; fall prevention; activities for daily living; and the use of assistive devices, such as magnifying devices and large-print publications, among others, that can help people with low vision.
Pre- and posttests were administered to workshop participants to assess both their knowledge about the need for regular eye exams and their knowledge of daily living challenges due to vision impairment. The results were used to assess how well the optometrist and occupational therapist were able to engage their audiences. Participant satisfaction reflected in the posttest results showed that 100 percent of participants stated that they "felt better about obtaining vision health care" after attending the workshop. Additionally, 100 percent of participants stated that they would recommend the workshop to a friend.
All of the adults who received the eye health materials were made aware of at least two local eye health resources. To support access to a local eye health resource, approximately two weeks after each workshop occurred, the optometrist who presented at the workshops was available onsite at each of the five senior community centers to conduct vision screenings at no charge. A total of 62 individuals took advantage of this opportunity. The success of having the target audience connect with one of the vision resources provided was also assessed by having the PCA Health Promotion Consultant conduct randomly selected phone call interviews with 20 percent of participants three months after the workshop. More than 50 percent of the older adult participants who self-identified with a need for care reported an increased use of eye health resources.
The PCA PrimeTime Health Promotion Program will continue to offer eye health programming to senior community centers. For more information about PCA eye health programming efforts, contact Helen Cooke at 215–765–9000, extension 5103, or hcooke@pcaphl.org.
---
On the Road With NEI
NEI regularly attends and exhibits at national meetings across the country. Exhibits and presentations provide an opportunity to share information and publications, promote NEI messages and resources, and strengthen links with Partnership organizations. Locations for upcoming NEI presentations are listed below. If you plan to be there, please stop by and say "hello"!
Centers for Disease Control and Prevention
Annual Diabetes Translation Conference
Hyatt Regency Hotel
Minneapolis, Minnesota
April 11-14, 2011
American Society on Aging
Annual Aging in America Conference
Hilton San Francisco Union Square and the Parc 55 Wyndham Hotels
San Francisco, CA
April 26-30, 2011
---
Let Us Know What You Think About Outlook
NEHEP wants to know what you think about Outlook. Let us know what you find beneficial, ideas for content you would like to see in upcoming issues, or suggestions for improvement. We're always interested in hearing about your eye health education efforts and especially how you have used NEI resources and materials.
Please contact us. We look forward to hearing from you!
---