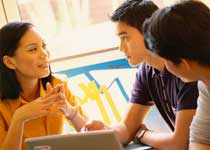 Local communities play an important role in helping newcomers integrate into American civic society. To support communities and community-based organizations, USCIS offers a number of useful programs and resources. In this section, you will find information on USCIS funding opportunities, technical assistance, and promising practices. The links below focus primarily on organizations that provide citizenship preparation services to permanent residents. To purchase USCIS products and publications, visit the U.S. Government Printing Office Bookstore.
Grant Program
Learn about current USCIS grant opportunities.
Citizenship and Integration Grant Program Promising Practices
Discover promising practices from established service providers.
Training and Professional Development
Enhance your skills with free online training and professional development tools.
Add Your Program to America's Literacy Directory
America's Literacy Directory allows users to find local literacy providers in all 50 states and the U.S. territories. Add your program by logging on to the admin portion of the site.
Supplemental Resource Links
Find links to program administration, professional development, and other resources.
Citizenship Public Education and Awareness Initiative
This initiative promotes awareness of the rights, responsibilities, and importance of United States citizenship, and the free naturalization preparation resources available to permanent residents and immigrant-serving organizations.
Civics and Citizenship Toolkit
Request a free toolkit of educational materials designed specifically for immigrants and the organizations that serve them.