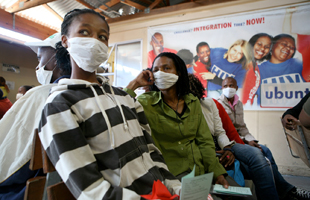 IRIN / D.Gough
12 February 2013 -- Measuring country progress in fulfilling global HIV commitments is an essential marker in assessing the impact of the global response. The three UN agencies have issued the Construction of core indicators for monitoring the 2011 UN Political Declaration on HIV/AIDS, which includes Guide on indicators for monitoring and reporting on health sector response to HIV/AIDS. The UN Secretary-General will publish a special report this year to review the overall progress made in achieving HIV-related Millennium Development Goals. WHO also plans to release an update on the health sector progress in HIV by mid-2013 based on data from countries and regions.
WHO releases new guidance for prevention and treatment of HIV in sex work settings
Global Network of Sex Work Projects (NSWP)
12 December 2012 -- HIV rates are much higher among sex workers than in general populations but sex workers are often faced with stigma, discrimination and violence in trying to access HIV services, including condom use. The World Health Organization, in partnership with UNFPA, UNAIDS, and the Global Network of Sex Work Projects, launches today new guidelines to address HIV in sex work settings. The guidelines aim to reduce HIV infections among sex workers by improving their access to health services based on a human rights approach.
Global Health Sector Strategy on HIV/AIDS 2011-2015: Let's do what's right for everyone
Contact us