Tobacco Products
-
Product Requirements, Marketing & Labeling
FDA regulates tobacco products based on a public health standard intended to reduce the toll that tobacco use causes. FDA provides the following information related to product requirements, marketing, and labeling.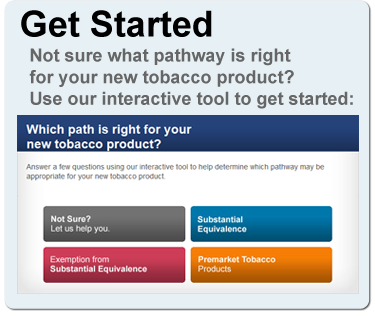 This section provides information on the pathways available to legally market new tobacco products and modified risk tobacco product applications, including:
---
FDA regulates wrappers and labels of cigarette and smokeless tobacco product packaging. Topics covered here include:
Which path is right for your
new tobacco product?

Answer a few questions using our interactive tool to help determine which pathway may be appropriate for your new tobacco product.

Not Sure? Let us help you.

Substantial Equivalence

Exemption from Substantial Equivalence.

Premarket Tobacco Products.

Question

Yes

No

---

<< Back

---

No
Characteristics is defined as "the materials, ingredients, design, composition, heating source, or other features of a tobacco product." Section 910(a)(3)(B) of the FD&C Act.
A predicate tobacco product is one that was commercially marketed (other than in a test market) as of February 15, 2007.

OR

A product previously found to be substantially equivalent by the Secretary and in compliance with Section 910(a)(3) of the FD&C Act.
-