Primary Sources: Youth Satisfaction Leads to Success
tags: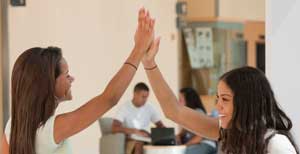 "Taking the Youth Perspective: Assessment of Program Characteristics That Promote Positive Development in Homeless and At-risk Youth" (abstract). Children and Youth Services Review, Vol. 32, No. 10 (October, 2010).
What it's about: The writers of this article surveyed about 133 youth, ages 10-24, who were clients of six youth-serving agencies in a large Midwestern metropolitan area. The researchers asked what the young people thought about the services and environment of the organizations.
Why read it: Every year, nearly 1.7 million adolescents experience at least one night of homelessness, the authors write. Prior studies indicate that when young people feel disenfranchised, they are more likely to end up homeless. The authors of this article studied what young people found most engaging and empowering at home, at school, and in other youth-serving systems in order to understand what might prevent them from becoming homeless.
Biggest takeaways for youth workers: Young people's overall satisfaction with their experiences at a youth-serving organization was not related to the number of resources or services offered by the agency. Instead, youth rated agencies highly when they also were satisfied with the organization's structure and safety, and its promotion of supportive relationships, opportunities for belonging, young people's self worth, and other factors.
For older youth, rules and predictability led to more positive overall ratings of organizations. For younger youth, safety was extremely important.
Additional references: This year marks the 10th anniversary of the National Academies' "Community Programs to Promote Youth Development," which includes a seminal chapter on the features common to successful youth programs.
(Publications discussed here do not necessarily reflect the views of NCFY, FYSB, or the Administration for Children and Families. Go to the NCFY literature database for abstracts of this and other publications.)