NCFY Recommends: The 2012 Street Soccer USA Cup Hits New York
tags: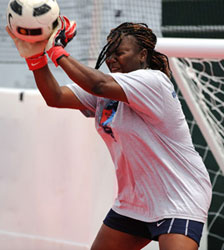 Forget the London Olympics! Here at NCFY, we'll be following the 2012 Street Soccer USA Cup, which starts this week in New York. Teams of adults and youth who have experienced homelessness will compete from July 26 to 29, and though the event's not televised, you can follow it on Facebook and Twitter.
SSUSA works with youth and adult homeless programs--including several Family and Youth Services Bureau grantees--in about 20 cities. Together, SSUSA and its partners provide social services, education and job opportunities, and sports programs, with the ultimate goal of getting people off the streets. Last year, we profiled SSUSA and some of its young players in a slideshow about the 2011 cup.
More Information
Photo credit: Rich Qualters, Street Soccer USA