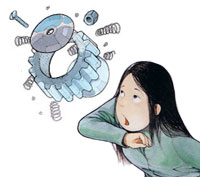 Your body's testosterone production is controlled by a group of nerve cells at the base of the brain, called the hypothalamus. The hypothalamus also does a lot of other things. It helps control appetite, blood pressure, moods, and reproductive ability.
Anabolic steroids can change the messages the hypothalamus sends to the body. This can disrupt normal hormone function.
In guys, anabolic steroids can interfere with the normal production of testosterone. They can also act directly on the testes and cause them to shrink. This can result in a lower sperm count. They can also cause an irreversible loss of scalp hair.
In girls, anabolic steroids can cause a loss of the monthly period by acting on both the hypothalamus and reproductive organs. They can also cause loss of scalp hair, growth of body and facial hair, and deepening of the voice. These changes can also be irreversible.