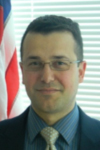 Helio Chaves
Deputy Director
Glenda Conroy
Director
What We Do:
In partnership with the NIDA scientific leadership and program staff, the Office of Management (OM) provides executive management oversight and guidance including the delivery of timely, high quality, and responsive administrative services to support NIDA's mission in a manner that reflects a commitment to excellence and the preservation of the public's trust.
Vision:
To enable the pursuit of scientific achievement by attracting, retaining, and developing the right work force; promoting our capacity for excellence through robust administrative management programs and services that are founded on principles of efficiency, effectiveness, quality, and high ethical standards; and fostering a management culture that bases evaluations, decisions, and overall direction on sound and reliable information.
Overarching Goal: To facilitate science
Providing consistent and reliable customer service through enhanced communication
Delivering business solutions that enhance decision making through the use of reliable data
Developing and implementing a systematic and continuous risk management program that is designed to proactively identify, mitigate, reduce, and/or eliminate areas of vulnerability
Creating human capital planning that is robust and focused on grooming our next generation of business leaders
Office Listings:
Featured Publication
As a result of scientific research, we know that addiction is a disease that affects both brain and behavior.