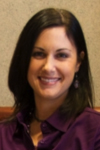 Jennifer Bidle
Branch Chief
What We Do:
The NIDA Management Analysis Branch executes innovative management initiatives to support the NIH and NIDA missions.
The MAB performs the following functions:
Develops policies, practices, and procedures, and monitors implementation of management and administrative policies for the Institute;
Prepares staff papers and reports on management and administrative issues at the request of Institute staff and in response to requirements from NIH and DHHS;
Analyzes effects of changes in management and administrative policies and procedures by organizational levels above the NIDA and advises the Executive Officer of these effects;
Coordinates the Institute's Risk Management Program;
Designs, develops, and performs management studies, analyses, surveys, reports, and related activities to improve management efficiencies, resource allocations, and policy compliance;
Plans, directs, and coordinates administrative initiatives;
Serves as liaison for the Institute with respect to investigational reviews (e.g., GAO, OIG, OMA);
Maintains manual issuance and delegation of authority systems;
Plans, directs, and provides centralized administrative services and management support for the records management program;
Coordinates, analyzes, and provides advice on all organization change proposals for the Institute;
Serves as "change agent" to facilitate changes affecting the Institute; and
Serves as the IC A-76 coordinator.
Subject Matter Expert Contact List
Management Analysis Branch

Name
Title
Phone
Areas of Responsibility
Jennifer Bidle
Branch Chief
(301) 332-9342

Communications
Organizational Changes
Process Mapping
Records Management
Workload Analysis

Darius Bickham
Management Analyst
(301) 402-1351

A-76
Competencies
Green Team
Human Capital
OM Journal Club
NIDA Navigator

Garlin Hallas
Management Analyst
(301) 332-9341

Delegations of Authority/ Manual Chapters
Policies & Procedures
Risk Management Program
Featured Publication
As a result of scientific research, we know that addiction is a disease that affects both brain and behavior.