As a leader in nationwide efforts to ease the burden of cancer, CDC works with national cancer organizations, state health agencies, and other key groups to develop, implement, and promote effective strategies for preventing and controlling cancer.
Cancer Topics
Prevention
Ways to reduce cancer risk; free or low-cost screening
Data and Statistics
USCS, other tools, and statistics
Health Disparities
Helping ensure equal access to cancer care
Publications
Printed materials in English and Spanish
Preventing Infections
Your risk is higher if you're getting chemotherapy
Research
Journal articles by DCPC scientists
Survivorship
Living with, through, and beyond cancer
About Us
Campaigns, partners, organization chart
What's New
Featured Scientist:
Djenaba Joseph, MD, MPH
Her research focuses on increasing colorectal (colon) cancer screening rates.
Buttons for Your Web Site
Add our buttons to your Web site, social network profile, or blog to help spread the word about how to prevent cancer.
Send a Health-e-Card!
Electronic greeting cards are a fun way to remind your loved ones to take care of their health!
Take Control of Colorectal Cancer
In this new video, actress Meryl Streep talks about getting screened herself and urges others to do all they can to prevent colorectal cancer.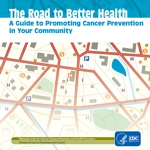 Moving Forward in an Era of Reform

New Directions for Cancer Screening [PDF-231KB]
Contact Us:
Centers for Disease Control and Prevention
Division of Cancer Prevention and Control
4770 Buford Hwy NE
MS K-64
Atlanta, GA 30341
800-CDC-INFO
(800-232-4636)
TTY: (888) 232-6348