Research in Action
Check out these cool images of NIGMS-funded research that have been featured as part of the National Science Foundation's "Research in Action" series published on LiveScience. Many of the images originally appeared in Biomedical Beat.
Traditional Chinese Herbal Medicine Yields Its Secrets
| 3/14/13
Molecular details help explain the health benefits of Chang Shan, a root extract that Chinese herbalists have used to treat malaria.
Tracking Telomeres to the Edge
| 1/30/13
New research shows telomeres moving to the outer edge of the nucleus after cell division, suggesting these caps that protect chromosomes also may play a role in organizing DNA.
Worm Regeneration May Lend a Hand in Human Healing
| 11/14/12
By studying the features that enable freshwater flatworms to re-grow body parts, scientists might move one step closer to learning how to generate or regenerate human tissue and cells.
Death-Defying Trick: Cells Return From the Brink of Death
| 10/24/12
Many cell types on the brink of self-destruction can bounce back after the trigger is removed.
DNA Replication Protein Caught Working Second Job
| 8/8/12
A protein previously thought to play a role only in DNA replication also helps enable stable chromosome attachments during mitosis.
Proteins: Disordered with a Purpose
| 6/27/12
A special "messy" region of a potassium ion channel is important in its function.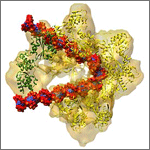 The Protein Machine That Copies Genes
| 5/2/12
A crescent-shaped protein complex wraps around and bends DNA to start the replication process.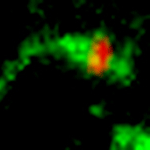 Toxic Turnaround with Manganese
| 2/17/12
New research suggests that manganese, a metal and an essential nutrient, can protect cells from the effects of the potentially deadly Shiga toxin.
Bacterial 'Glue' is One of Nature's Stickiest Substances
| 2/8/12
The tiny water bacterium Caulobacter crescentus secretes a sugary substance so sticky that just a tiny bit could withstand the pull from lifting several cars at once.
A New Twist on Old Painkillers
| 12/28/11
Ever wondered how ibuprofen eases pain or reduces inflammation? Scientists thought they knew, but a new study suggests they only had part of the answer.
Proteins that Keep Worm Sperm in Motion
| 11/16/11
Cells are constantly moving around in our bodies, and now a new approach may help scientists better understand how.

After a Good Night's Sleep Brain Cells Are Ready to Learn
| 11/9/11
Why do we need to sleep? Research suggests one reason might be to learn more the next day.

Seesaw Action Helps Protein Motors Move Cargo Around Cells
| 10/26/11
A protein called kinesin moves cargo around inside cells, and here it's stopped in its tracks.
Under Pressure: Peeking in on Contracting Cells
| 10/19/11
A microscopic stretch detector senses pressure inside real tissues to see how cells react.
Glowing Bacteria Make a Pretty Postcard
| 10/12/11
A petri dish full of genetically engineered glowing bacteria looks like it could grace the front of a postcard from Key West.
Microbes Find Protection in Organized Communities
| 9/28/11
Understanding how bacteria cluster and crowd could offer new insight into how to beat them.
Tracking Cellular Sugar Traffic
| 9/21/11
Complex sugars called glycans are involved in important processes like cell communication, immune response and early development. Tracking them can help us understand and treat diseases.
How Cilia Do the Wave
| 8/24/11
Thin, hair-like biological structures called cilia work together to help sweep mucus from the lungs and usher egg cells from the ovaries into the uterus.
This page last reviewed on March 15, 2013