Health Information
Heart Diseases (General)
NHLBI
National Heart, Lung, and Blood Institute
Call (301) 496-4236 for more information
NIAAA
National Institute on Alcohol Abuse and Alcoholism
NIDA
National Institute on Drug Abuse
Call (301) 443-1124 for more information
NIDDK
National Institute of Diabetes and Digestive and Kidney Diseases
NIMH
National Institute of Mental Health
Call (301) 443-4513 for more information
NINDS
National Institute of Neurological Disorders and Stroke
Call (800) 352-9424 for more information
NLM
National Library of Medicine
OD
Office of the Director
Related Topics
Clinical Trials Information
The NIH funds research studies that you may be able to join. Visit clinicaltrials.gov for a list of ongoing clinical trials.
Check It Out!
Information about pediatric heart disease studies
Visit the Pediatric Heart Network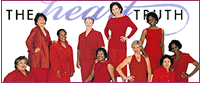 The Heart Truth:
Learn The Heart Truth about women and heart disease
Learn Ways to Enhance Children's Activity and Nutrition.
Take action against heart disease.
This page last reviewed on Monday, February 20, 2012