Welcome from the Director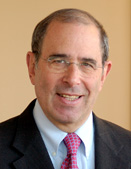 John I. Gallin, M.D.
Director, NIH Clinical Center

---
Welcome. This is an exciting time for the NIH Clinical Center. On September 12, 2011, the Albert and Mary Lasker Foundation [disclaimer] announced the Clinical Center is recipient of the 2011 Lasker~Bloomberg Public Service Award. The prestigious award recognizes the Clinical Center's role as a model institution for clinical research and patient care since it opened in 1953.
Over the decades, the Clinical Center has provided a unique environment for innovative clinical research, training of clinician-scientists, and exceptional patient care. Clinical research participants—nearly half a million since the hospital opened in 1953—are active partners in medical discovery, a partnership that has resulted in a long list of medical milestones, including the first cure of a solid tumor with chemotherapy, gene therapy, use of AZT to treat AIDS, and successful replacement of a mitral valve.
The Clinical Center, located in Bethesda, Maryland, is America's clinical research hospital and the world's largest hospital dedicated totally to clinical research. Through clinical research, promising discoveries in the laboratory are translated into better health and health care for all.
Currently, there are about 1500 clinical research studies in progress here. About half are studies of the natural history of disease, especially rare diseases, which often are not studied anywhere else. What we learn by studying rare diseases often adds to our basic understanding of common diseases. Most of our other studies are clinical trials, which often are the first tests of new drugs and therapies in people.
As the promise of medical discovery expands, so does the demand for a scientific workforce ready to explore new options and approaches. To help meet the demand, the NIH Clinical Center offers an extensive range of clinical research training to help prepare the next generation of clinician-scientists.
For more information, I invite you to keep in touch with the Clinical Center. You can find us on Facebook, Twitter, and YouTube. Explore details on active Clinical Center studies through the online database of studies. To speak with one of the specialists in our patient recruitment office, call 1-800-411-1222 (TTY 1-866-411-1010). If you have a question or suggestion for us, please send it to my attention through our communications office.