Welcome to the Societal Impacts Program (SIP) Web Site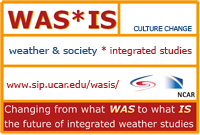 WAS*IS aims to better integrate weather and social science to empower practitioners, researchers, and stakeholders, in all sectors of the weather enterprise, to forge new relationships and to use new tools for more effective socio-economic applications and evaluations of weather products. Click here to read more about the WAS*IS workshops.
Weather and Society Webinar Series
The Societal Impacts Program (SIP) hosts a quarterly Weather and Society Webinar series that takes place via the Ready Talk audio and web conferencing system.
The next webinar will be held March 6, 2012. To view more details or to view and listen to past webinars or obtain more information, please click here.
Important message from the director of the Societal Impacts Program
April 3, 2012
Due to the tough budget times and NOAA's choices about the allocation of their funds, we regret to say that external funding of the Collaborative Program on the Societal and Economic Benefits of Weather Information (aka the Societal Impacts Program) has been discontinued.
We have thus discontinued or suspended non-research related activities including WAS*IS, the Societal Impacts Discussion Board, the Weather and Society Watch, the Extreme Weather Sourcebook, and other information resources. As such we will be "taking down" these webpages as we will not be able to maintain them.
The Societal Impacts Program Discussion Board will be reinvented very shortly as a community service supported by Rebecca Morss here at NCAR. Please look for a message from her in the next week or so as we hope that a new incarnation of the board comes back online.
If you have any questions you may contact Jeff Lazo at lazo@ucar.edu.
Sincerely,
Jeff Lazo
---
The vision of the Societal Impacts Program, located within the National Center for Atmospheric Research in Boulder, Colorado, is to improve the societal gains from weather information by infusing social science research, methods, and applications throughout the weather enterprise. SIP aims to be the premiere focal point for integrating social science and societal impacts understanding into the weather enterprise through cutting-edge research and capacity building.
Featured Highlights
| | |
| --- | --- |
| | The SIP Web site is currently being redesigned. Please look for the new layout and design to be released in June 2012. |
| | Please join us for the next Societal Impacts Program Summer Weather and Society Webinar on Tuesday, March 6, 2012. Toni Rosati, a climate research assistant at the National Center for Atmospheric Research, will gave a talk entitled, "Public Perceptions of Tsunamis and Tsunami Warning Signs in Los Angeles." To view more information about the webinar, please click here. |
| | The January 2012 edition of Weather and Society Watch is now available! To receive future newsletters, please subscribe here. |
| | The Societal Impacts Program hosted the Summer 2011 Weather and Society * Integrated Studies (WAS*IS) workshop August 4-12, 2011, in Boulder, Colorado. It was the tenth-ever WAS*IS workshop. For more details about the workshop, please click here. |
| | J. Lazo and co-authors published the following paper in the June 2011 edition of the Bulletin of the American Meteorological Society: Sensitivity of the U.S. economy to weather variability. |
| | Join the Societal Impacts Discussion Board and exchange societal impacts research questions and information with societal impacts researchers, policy makers, forecasters and others interested members. The discussion board also provides a great forum for announcing journal and news articles, conferences, jobs, educational opportunities, and other opportunities. Click here to access the dicussion board. |